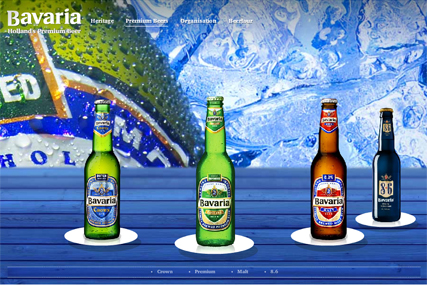 Bavaria.com, which previously had no measurable traffic, was the fifth most visited beer website in the UK on Tuesday after Carling, Cobra, official World Cup beer sponsor Budweiser and Carlsberg according to the online intelligence service Experian Hitwise.
The majority of traffic was redirected from Wikipedia and Google as the story of Earle's axing broke around the world.
Bavaria's UK marketing manager Sean Durkan said: "Brand awareness has definitely increased. There's a lot more activity on Twitter and social media."
Durkan said Bavaria had not yet analysed its weekly figures to see if sales have gone up, but said: "Definitely the summer weather combined with the story should have a positive effect."
The sudden interest was sparked after a group of 36 Dutch female fans dressed in short orange dresses were accused by World Cup officials of promoting the lager brewer at the Holland-Denmark game on Monday.
The orange dresses are widely available in Holland as they have been part of a Bavaria promotion in which customers can buy a pack of beer and get a free dress. Durkan said Holland had sold 200,000 such dresses in the lead-up to the World Cup.
FIFA has reacted by filing a civil case against Bavaria as well as filing criminal charges against two Dutch women alleged to have organised the stunt.
Robin Goad, director of research at Experian Hitwise said: "It's interesting to note that despite the controversy, the stunt has clearly made an impact on the brand's online visibility.
"Sponsorship doesn't come cheap and even though the women were kicked out, the stunt does appear to have made an impact on a brand level."
The women were in possession of tickets which had been allocated to Robbie Earle and were not allowed to be passed on to a third party.
Bavaria lager is widely available in the UK and is sold in all leading supermarkets and selected off-licences such as Bargain Booze, Netto, TJ Morris and the Co-op.
The company's alcohol-free beer had a 7% share of the low alcohol beer market in 2008.