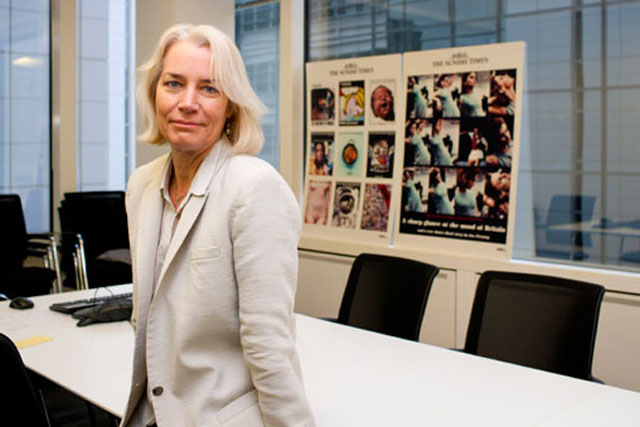 It's hard spending an hour with a News International editor without mentioning phone-hacking. A trip to the offices of Rupert Murdoch's enterprise in foggy Wapping is somewhat eerie while the Leveson inquiry drags the media industry through its own excrement largely as a result of the company's deeds.
Rebekah Brooks may have had enough time to become a mother since News of the World was euthanised in a bid to save NI, but visiting The Sunday Times still smacks of an awkward meeting with the parent of a miscreant who has committed the unimaginable.
Sarah Baxter is the editor of The Sunday Times Magazine, the world-renowned weekend newspaper colour supplement that this month celebrates its 50th anniversary. But she is also an NI editor, so it seems relevant to ask some questions unrelated to this cheery event.
At Leveson, the Sunday Times editor, John Witherow, said some journalists on the paper had used blagging and impersonation in the past, but never phone-hacking. Has Baxter ever been aware of phone-hacking happening at the paper? "Never," she says, in her soft and steely manner. "I didn't even know you could do it."
How much influence does Murdoch have on the magazine? "None whatsoever," Baxter replies, taking these non-PR questions in her stride. "I hope he takes an interest, but he has a mighty corporation to run. We do our own thing." Would she welcome statutory regulation? "I'm absolutely against statutory regulation. It's like letting the fox regulate the hen coop, isn't it? Politicians don't want us to find out about things and we don't serve the reader properly unless we find out about things."
Baxter, who has been the editor of the title for more than two years, was previously the Washington correspondent for The Sunday Times. She admits it was a tough job – no wallflower will get an exclusive with the White House - and so she has that admirable mix of a magazine editor who has been a dogged reporter.
She quotes the journalist Nicholas Tomalin, who died in 1973 while reporting on the Yom Kippur War. "He said the essential qualities you need to succeed in journalism are 'rat-like cunning, a plausible manner and a little literary ability'. I don't think anyone's ever bettered that as a description. Because if journalists aren't a little bit roguish, we don't get to the truth."
But if journalists are by their own nature roguish, does she really believe newspapers can reform themselves? "I think so. I think there's an awful lot of restraint now being conducted at every level at newspapers. I think people realised that some journalists overstepped the mark, that it was lazy journalism and we were all very embarrassed about it.
"Yes, we could make the Press Complaints Commission have more teeth, but I think we already respect its judgment a lot. I'd be very wary of going too far down the road of regulation. We've learnt a hell of a lesson."
But while Baxter recalls her more roguish days with nostalgia, she clearly enjoys playing the role of enigmatic editor at a glossy magazine. She stalks her office in a white linen jacket and modest heels, gesturing languidly at iconic covers from the 60s and a black-and-white framed photograph of the magazine's first-ever editor, Mark Boxer, who helped found it in 1962.
She talks proudly of the magazine's contributors over the past 50 years – Martin Amis, David Hockney, Don McCullin, David Bailey.
The first-ever cover was shot by Bailey and starred Jean Shrimpton. "That cover, with Shrimpton in a Mary Quant dress - that heralded the arrival of the swinging 60s," Baxter says. "And, somehow, The Sunday Times Magazine was there to record it in colour."
The magazine was the first colour newspaper supplement – it was to newspaper land what the first non-black-and-white movie was to cinema. It wasn't long until all of The Sunday Times' competitors followed suit.
To mark its anniversary, The Sunday Times Magazine is celebrating half-a-century of covers and iconic photography at a chichi exhibition at the Saatchi Gallery. It features a cover photograph of Marilyn Monroe, taken six weeks before her death. She is naked except for a rose-tinted veil pulled taut over her nipples and clenched between her teeth.
There will also be the picture of the model Cicely Tyson shot by the photographer Eve Arnold with the coverline "Black is beautiful", taken in 1969.
Baxter says they still like to surprise their reader. A recent issue contained a feature on Lucian Freud's female sitters – prime Sunday Times cover fodder. But instead of a "safe" Freud portrait, Baxter switched the cover at the last minute to a raunchy shot of a Berlin nightclub, advertising its feature on the German capital's hedonistic clubbing scene.
The reader of The Sunday Times Magazine is certainly not the same as the reader of the Telegraph Magazine, its keenest rival. The Telegraph is unlikely to shock its readers with such visions.
The Saatchi exhibition is a celebration of the historic mark that print journalism can make. But the double-edged sword is that the industry is in decline. Is it a eulogy before the funeral? Does Baxter stay awake at night worrying about the future of newspapers? "Absolutely. At the same time, I think, in many ways, journalism is in a golden age – we're really good at it. And the magazine works brilliantly on the iPad. We're all hoping that the tablet is the model of the future."
The lowdown
Age: 52
Lives: Caledonian Road, London
Family: Photographer husband; daughter, 14; son, 11
Reading: Timebends by Arthur Miller
Guilty pleasure: Watching films in the afternoon
Mantra: Don't sweat the small stuff (because I often do)