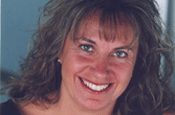 Baylay will join the executive board in May, filling the role left vacant since Tim Davie was promoted to director of BBC audio and music last July.

As the general manager of Microsoft's Online Services Division, Baylay oversaw the development of the company's Windows Live and MSN businesses, including the acquisition of Multimap. Since joining Microsoft in 1993, Baylay has also held marketing and management roles across international regions including the Americas and Asia Pacific.

"The BBC's relationship with our audience has never been more important than it is today," said the BBC Director-General Mark Thompson. "Sharon's passion, energy and leadership will help ensure the BBC keeps the needs and views of our audiences at the forefront of everything we do. Her experience of relating to audiences in different environments will be especially valuable."