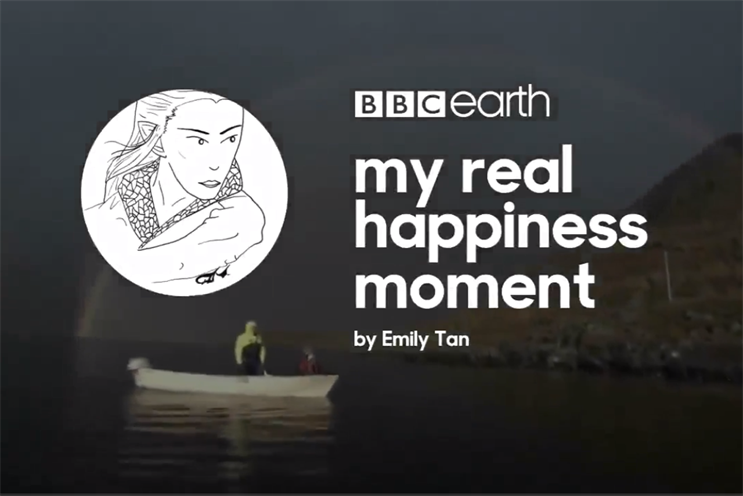 "Real Happy Moments" is based on Monterosa's FanBot product which, in addition to delivering personalised video, has the ability to entertain audiences with live interactivity including voting, ratings and predictions based on user preferences.
For BBC Earth, the bot asks users a short series of questions, creating a personalised "Happiness Profile". It then correlates those user preferences with BBC archive footage to produce personalised, shareable montages with scenes selected using intelligent tag matching.
Each video clip contains the name and Facebook profile picture of the user.
In order to start a chat with BBC Earth, Facebook users simply need to follow the link, tap the Message button on the official Facebook page, or search Messenger for BBC Earth.
The bot uses feedback via emojis to improve the algorithm – which is probably a good thing. The author asked for furry, four-legged meat-eaters and got whales, sharks and odd-looking sea lions in response:
What is this thing?
"We're always looking at new and innovative ways to bring BBC Earth's vast archive of incredible natural history content to our audiences around the world," Alex Ayling, head of digital studios at BBC Worldwide, said.
Personalisation, short-form video and bots are three of the hottest topics in entertainment, Tom McDonnell, chief executive of Monterosa, observed. This initiative "breaks new ground with the launch of FanBot, utilising the growing Messenger platform as a new channel for video and the BBC's amazing natural history footage", he added.
Nevertheless, BBC Earth is no stranger to innovative marketing methods. In November, it worked with AKQA to produce Attenborough's "Story of Life" app.