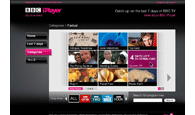 The deal is the latest move by the public broadcaster to make the iPlayer available on multiple platforms. Already available via PCs, a full version of the iPlayer will soon be available via cabler Virgin Media.

Erik Huggers, the BBC's group controller for future media and technology, said: "The BBC's catch-up TV service can now be accessed on an increasing number of different platforms - from the web and portable devices to gaming consoles."

Once the iPlayer service for Wii is live later this year, a message will be sent to all Wii consoles in the UK currently connected to the internet to notify them of the availability of the iPlayer service. Existing Wii owners will then be able to access BBC iPlayer via the internet channel on the Wii main menu.

The Nintendo deal was announced as the BBC published details of recent uptake for the iPlayer.
In March, more than 17.2 million requests to download or stream BBC programmes were made via the iPlayer, up 25 per cent on the previous month. Overall, more than 42 million programmes have been accessed via the iPlayer since its Christmas 2007 launch.