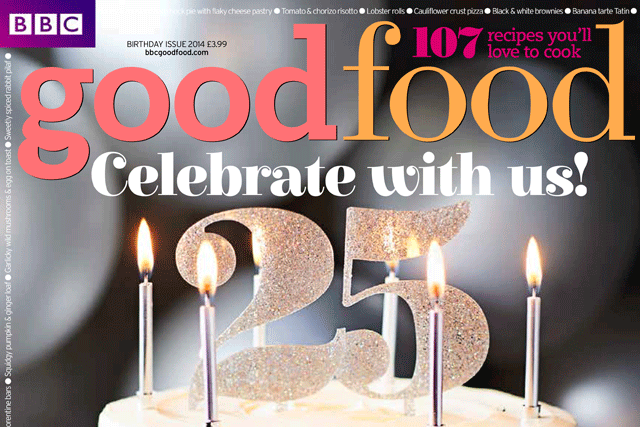 The special birthday-themed issue of the magazine features a birthday cake, created by the first 'Great British Bake Off' winner Edd Kimber.
Also included is a free cover-mounted spatula, available in two colours. Inside are 107 recipes, an offer for 25%-off River Cottage courses, plus a series of exclusives with celebrity chefs such as James Martin.
The website hosts video messages from the brand's celebrity fans, including Mary Berry, Lorraine Pascal and chef of the moment Tom Kerridge.
The books, published by Ebury, are rolling out a series of new launches with further plans to celebrate the birthday at BBC Good Food's Winter live shows.
Last week, new mobile data from the National Readership Survey (NRS) found BBC Good Food brand to have the largest reach in the country, with 1,357,000 readers for the magazine and 13 million unique users online.
The new logo has been designed by agency Lambie-Nairn and will run across all BBC Good Food's businesses – BBC Good Food Magazine, website, social, recipe books, live shows and events, tying them together.
Chris Kerwin, head of UK publishing at BBC Worldwide, said: "BBC Good Food began life as a print title but has since grown into a food superbrand operating across a variety of platforms and live events.
"At the heart of the brand, and consistent across a quarter of a century, is the tried and tested formula with every Good Food recipe across every format tested in the Good Food kitchen.
"However Good Food is so much more than just a collection of recipes, it offers inspiration, help and advice, skills and reviews or ideas, for areas spanning health, food travel, local and seasonal, and getting children cooking.
"It's right to mark the anniversary but this is a brand that never sits still and we are always looking forward to ensuring we remain the 'Go to' brand for food fans, wherever they are."
The brand has also launched a research study – 'The BBC Good Food Nation' – described as "a rolling survey of the UK's eating, drinking and shopping habits" to deliver fresh insights, advice and fool-proof recipes to make us all better cooks, Kickstarted by one of the UK's biggest ever food studies of 10,000 UK respondents, conducted by YouGov.
A nationwide PR and marketing plan is taking place over the course of the next year positioning BBC Good Food as the "go to" destination for anything food related.