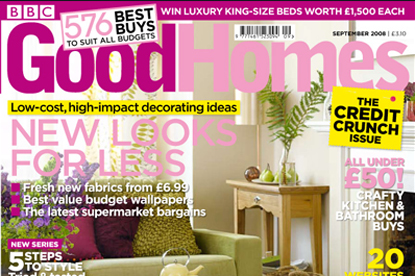 It expects the July 2009 issue to be the last one. BBC Good Homes first launched in 1998.
It hit a peak in 1999 with an ABC of 151,763 for July-December. Its circulation remained at around 130,000 between 2004-2008, before it fell to 117,466. It continued to fall, reaching a low of 97,725 for July-December 2008.
Peter Phippen, the managing director of BBC Magazines, said: "I am very sorry to announce that after much deliberation we are proposing to close BBC Good Homes magazine.

"As the last set of ABC figures showed, the declining housing market has had a particularly adverse effect on this title and we cannot see how this might change in the near future.

"With a remit to deliver profit back to the BBC, we feel it is not tenable to publish this title at a loss. We have given this news to the Good Homes team and we are doing all we can to help them find other roles within, or outside, BBC Worldwide."