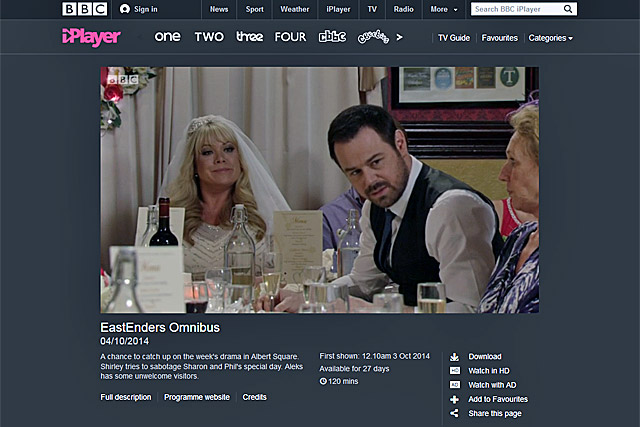 The extended service is said to be a response to a "huge demand to make programmes available for longer," according to Ralph Rivera, director of future media at the BBC.
He said the number of people searching for programmes after the seven day catch up window has increased.
BBC One hit Happy Valley, for example, reported 154,000 searches in the three weeks after it became unavailable on BBC iPlayer.

Rivera said: "Whether it's on the bus on their mobile – or on their tablet in bed at night, I'm really pleased that we're able to give our audiences longer to watch and listen than ever before."
In addition, speech and music programmes from across the BBC's portfolio of national radio stations (such as BBC Radio 4 and BBC Radio 2) and BBC radio stations in Scotland, Wales and Northern Ireland are now available to stream for 30 days on BBC iPlayer Radio.
The 30-day availability for programmes from regional radio stations and the World Service will roll out over the coming weeks. Downloading TV programmes on BBC iPlayer will also move to a 30-day catch-up window shortly afterwards.

The 30 day catch-up service comes in time for an autumn schedule, which includes programmes such as epic gangster drama Peaky Blinders, the second series of hit BBC drama The Fall, Human Universe with physicist Brian Cox, and drama such as The Archers, Once and Future King, Good Omens, and comedy Just a Minute, on BBC iPlayer Radio.
Tony Hall, director general of the BBC, said: "BBC iPlayer pioneered online viewing. It is recognised as not just the first, but the best service of its type in the world. It offers amazing value. But we want to go further. That's why we began reinventing iPlayer earlier this year with a brand-new redesign and features.
"Extending the catch-up window to 30 days now makes the best value on-demand service even better. We have a fantastic autumn schedule and the public will now have more opportunities to watch the shows they love."