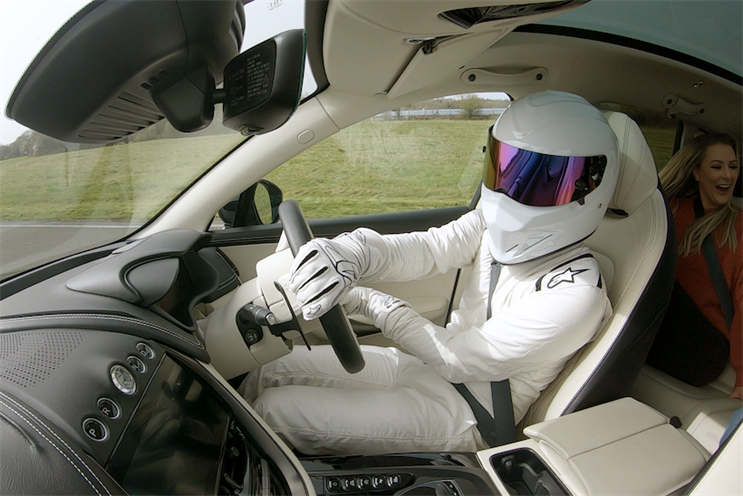 It should be no surprise that BBC Studios Social has positioned itself at the forefront of the original content commissioning space over the last two years. With a world-class, award-winning portfolio of brands, including BBC Earth, Top Gear, Doctor Who, and Bluey, and 4.7bn social views across all social platforms, it is a mouthwatering proposition for brands seeking quality sponsorship opportunities.
A division of the global content company BBC Studios, BBC Studios Social has commissioned around 800 pieces of high-quality original content to date across kids and family, factual, and comedy. Its original content lives on over 90 channels across YouTube, Facebook, TikTok, Instagram, and Snapchat, creating a universe of opportunities for brands. 
From Hey Duggee Songs being licensed on iPlayer, to 12.5m views for Top Gear spin-off American Tuned, and from elite BBC Earth documentary programming such as the urban animals YouTube series, Coexistence, to the internationally acclaimed gameshow Hack Attack that features on digital-first comedy channel Funny Parts, BBC Studios Social is a powerhouse of original content that audiences love. 
"We believe in the four S's at BBC Social," says Chris Allen, head of development at BBC Studios Social. "Strength of our brands, scale of audience, safety of the BBC's reputation, and storytelling. Our original commissioning is driven by both business needs and audience needs. On the business side are things like liaising with our brands, who will have clear objectives about what audiences they want to find or grow, areas they want to expand into, as well as the ideas, IP, and new talent they may want to bring in. On the audience side, it's what the data tells us about our audiences, what they enjoy, and what they dislike. "The best commissioning for me sits in the middle of that Venn diagram, where those needs overlap."
A data-led approach
"It used to be difficult to explain the ROI or engagement stats to potential sponsors or partners," says Athena Witter, VP of digital programming at BBC Studios Social. "Now, with data intelligence and audience insight teams, we've become really astute and critical about what's working and what's not working. It means we can offer brands significant opportunities to connect with our audiences in meaningful ways." 
As well as accumulating data on its audience and channels, BBC Studios Social gathers data on wider market trends and competitor content. What it invests in, and how it gets distributed across its own channels and beyond is now based on muscular data. 
But, while BBC Studios Social is data-led, it is not necessarily data-first. "Data is a key contributor to our decision-making," says Witter. "But we have to be passionate about an idea, and we have to have a really good feeling about a piece of content. That mix of robust data intelligence and experienced creative decision-making means we offer a brilliant, broad breadth of opportunities." 
The home of new talent 
A big part of BBC Studios Social's remit is to find, develop, and work with new talent, and being platform specialists enables this. For example, TikTok star Max Tobin fronts original BBC Studios series Fractured Reality, Instagram and YouTube sensation Becky 'Queen B' Evans is behind the wheel on Stig's Garage, while social media personality Bash the Entertainer is an integral part of original silent comedy series Sound Off on YouTube. 
"Working with new talent, and giving them opportunities to grow, is at the heart of our original commissioning," says Allen. "If we love someone's content, or their voice, we will be passionate about helping them develop their format into a new space for us, and that can be UK, US, and other key markets. So our talent can be regional, or it can have a global face." 
With the BBC Studios home to many of the UK's biggest names, BBC Studio Social's commitment to growing talent provides a unique opportunity for brands to align themselves with emerging talent and be a part of their journey. 
"Brands get to work with really smart writers, producers, comedians, and presenters in their own right who already have their own audiences, and then see them develop as a part of a vast media outlet like the BBC," says Witter. "Together, that is huge. If you get the right mix and the right talent, you're able to create something special. And a partner will know that we have an incredible track record of nurturing trusted talent, so a brand can get in at the early development stage, and grow with the talent." 
Original sponsorship opportunities 
Across kids and family, Top Gear, factual, and comedy, the opportunities are endless for sponsors over the next 12-18 months. 
In kids and family, BBC Studios Social is developing content, such as songs, dances, and reading, that builds out from its core shows and explores new licensing opportunities in toys, games, and music releases. In the Top Gear and factual universes, there are upfront sponsorship and catalogue licensing opportunities, while BBC Studios Social is looking to push the successful American Tuned franchise into new territories and develop new long-form and very short-form content across science and natural history for BBC Earth. For comedy, BBC Studios Social is working with comedy labels to develop new talent and formats to trial them online, as well as experimenting with sub-60-second content on Snapchat and TikTok. 
"We are massively well-versed in the storytelling space; we know our brands, we know our audiences, and advertisers know our reputation," says Witter. "We present really joined-up sponsorship opportunities for advertisers wanting to align with some of the world's most trusted and loved content." 
"We're in the really fortunate position at BBC Studios Social that audiences love our content," says Allen. "People would sell a kidney to find out what happens next on Doctor Who, millions tune in to watch EastEnders four times a week, BBC Earth is cherished around the world, and Bluey is a global phenomenon. 
"So we have really strong brands with large, diverse, dedicated audiences. And that is powerful." 
With hubs in London, Manchester, and New York, find out more about BBC Studios Social and its original opportunities for advertisers.