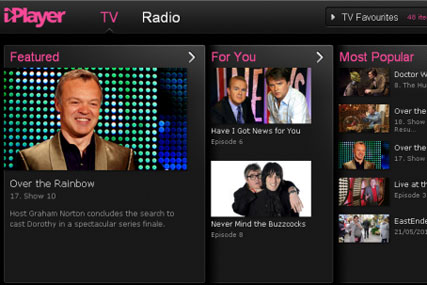 The news follows the BBC Trust's announcement that two years after launch, reaction to the iPlayer has been "overwhelmingly positive".
The new and improved iPlayer adds a host of features to what is currently available. They include better quality video, more easily navigable content, and personalisation options that enable users to create their own content profiles.
The player's new social functions let viewers recommend content to friends on Facebook, Twitter, as well as within iPlayer itself.

The BBC has also signed a deal with Microsoft to enable users to log into their Windows Live messaging service via their iPlayer.
Viewers wishing to take advantage of the new social media functionality of the site will have to log onto the BBC website's ID service.
The BBC has also revealed that later this summer, iPlayer users will be able to find links to programmes from ITV Player, 4oD, Clic, Demand Five and SeeSaw – the result of partnership deals with ITV, Channel 4, S4C, Five and media services firm Arqiva.
The BBC said that the "metadata" partnerships would mean that users who click on non-BBC programme links, would be redirected to other broadcaster websites.
The corporation said: "BBC iPlayer will link and drive traffic to them, without any sharing of technology or syndication of content,"
Erik Huggers, BBC's director of future media and technology, said: "The launch of this version of the BBC iPlayer is part of our strategy to do fewer things even better, and make it more simple, personal and connected."
Joanna Shields, vice-president EMEA for Facebook, added: "The BBC's use of Facebook's social plug-ins transforms BBC iPlayer into a customised social experience for each of our 23 million UK users."
Huggers cautioned that it was important keep a rein on iPlayer's remit. "As we focus on what public service means in a digital age, we are working to set clear boundaries for BBC Online," he said. "We don't want to build a social network, micro-blogging or instant messaging service."
Anthony Rose, head of digital media technology, has written about the new version of the player on the BBC Blog.