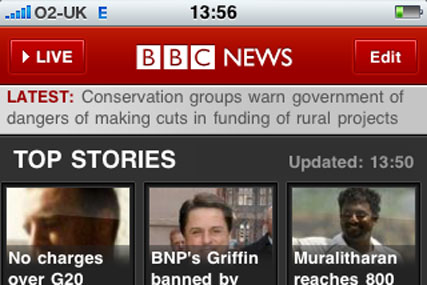 Although our chart does not normally include non-commercial apps, we have included the BBC News app due to the debate over the BBC's impact on the commercial media sector.
The BBC originally planned to release the app in June but was held up while the BBC Trust decided whether a public value test was required. It released the app for the iPhone last Friday (23 July), immediately after receiving the go-ahead from the trust.
The Newspaper Publishers Association was against the move, citing the app's "significant and negative market impact upon the viability of the business models of commercial news organisations in the app market".
Topshop released its first app, which offers a first look at new products in store, a few days earlier and has taken eighth place, two ahead of Next.
The popularity of property website apps continues unabated with Zoopla the latest to feature in the chart in seventh place, following in the footsteps of Rightmove and others.
Lucozade Sport's FitCoach app is another new entry at number 13. The app helps users to create a personally customised eight-week plan combining exercise and nutrition.
The chart is powered by analytics app PositionApp developed by Ustwo, with non-commercial branded apps removed.