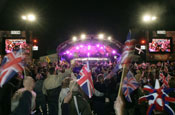 The launch of such a service would take the BBC into direct competition with the likes of Apple's iTunes, Amazon and Sky, which will launch a subscription music service later this year.

It is understood the service should launch with at least 1,000 music tracks, featuring around 300 of the BBC's various radio and TV music programmes such as The Old Grey Whistle Test and Radio 1's Live Lounge.

There are plans to exploit the BBC's full range of 15,000 separate music programmes, meaning the service could offer around 50,000 music audio tracks eventually and 3,000 hours of video content.

It is understood that the public broadcaster's commercial arm is working on launching a test version in November, with a full launch expected in January.

Crucially, unlike most established music players, BBC Worldwide's planned venture, which has not yet been named and requires BBC Trust approval, will allow users to stream full-length audio and video music content for free.

BBC Worldwide will then levy charges for any audio or video music content that consumers want to download to rent for a limited time period or that they download for permanent ownership in order to transfer to other music devices. Significantly, and unlike Apple iTunes, all such downloaded content will be DRM-free, meaning users will be free to copy or transfer content to multiple devices.

It is understood that all audio and video music content will carry pre-roll, mid-roll and post-roll ads, which will be sold by BBC Worldwide's digital media sales team. Display ads will also feature on the service, including banners and potentially homepage takeovers, which it is thought will be handled by Google-owned online display ad specialist DoubleClick.

A BBC Worldwide spokesman said: "We're exploring a range of opportunities around direct to consumer websites and the utilisation of the BBC music archive. At present, no launches have been approved."

Pricing for the service has yet to be finalised, but it is understood that BBC Worldwide views iTunes' price point of 79p per audio track is a potential starting point.

It is believed that advertising and subscription revenues will each make up about half of the planned venture's overall revenue.