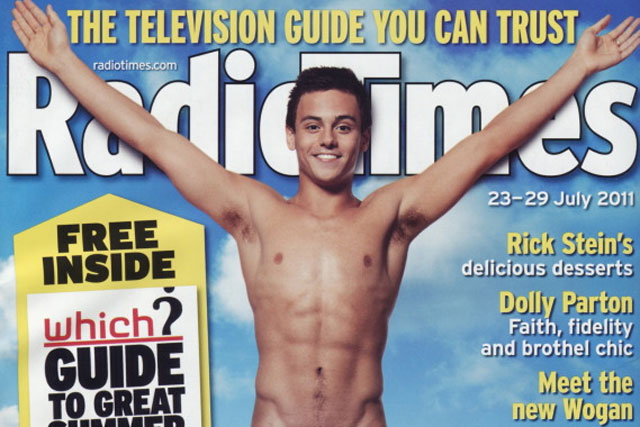 The highly profitable Radio Times is among the crop of 11 magazines the private equity owner of businesses such as Quorn and the Ambassador Theatre Group is buying, along with Olive, Gardens Illustrated.
BBC Worldwide will grant Exponent a 10-year licence to publish 18 titles including Gardeners' World and BBC Wildlife.
A third category of four titles – Top Gear, Lonely Planet, Good Food and Easy Cook – will be retained by BBC Worldwide and published by Exponent under a contract lasting for five years.
Exponent is expected to create a new company to which the majority of BBC Magazines staff and operations will transfer when the deal completes.
The deal is dependent on the approval of the Office of Fair Trading and the process is expected to take around 40 days, meaning it should complete in the autumn.
Exponent will acquire full control of specialist publisher Origen, in which BBC Magazines currently has a minority stake. The Bristol-based company owns 17 titles such as Your Hair and Cross Stitch Crazy.
Exponent will also acquire BBC Magazines' stakes in subscriptions fulfilment company Dovetail and distribution company Frontline. Dovetail is a joint venture with Dennis Publishing while Frontline's other shareholders are Bauer Media and Haymarket, which publishes Media Week.
Separately BBC Magazines' 50% shareholding in Indian joint venture Worldwide Media is to be sold to joint venture partner Indian media giant Bennett, Coleman & Co. Worldwide Media publishes titles such as Top Gear Magazine India and BBC Good Homes.
BBC Worldwide claimed the transactions would collectively generate £121m, with the majority of the proceeds going to the BBC.
BBC Worldwide will create a small in-house company, called the Magazine Unit, which will be responsible for ensuring that editorial content across titles licensed and contracted out to Exponent meets the BBC's editorial guidelines.

It will be led by Nicholas Brett, the current deputy managing director of BBC Magazines.

A spokeswoman for BBC Magazines said it is too early to say what will happen to other BBC Magazines executives, but that the group is hopeful Exponent will retain current staff.
Exponent already owns two publishing companies: Magicalia, which is behind Practical Parenting and Pregnancy and Golf Magic, and GTI, which is behind Target Jobs and the Careers Service Guide.
John Smith, CEO of BBC Worldwide, said his company now had other priorities and the deal would help the magazines business contend with a challenging environment.

"BBC Magazines is a world-class magazines business, with an incredible depth of talent across editorial, publishing, marketing and commercial", he said. "It continually provides readers with the highest quality content, has launched successful new titles in the UK and overseas, and has strongly outperformed the UK market in recent years.

"The deal announced today offers the best prospects for the magazines business to continue on this path of success, while BBC Worldwide pursues a strategy increasingly focused on international video and digital services.
"The consumer magazines market faces a number of challenges, and this transaction brings a focus and degree of investment that BBC Worldwide alone is unable to provide."
Richard Lenane, an Exponent partner who specialises in media and healthcare, said: "Exponent invests exclusively in market-leading businesses which have strong growth potential and great people. We believe that BBC Magazines is such a business.

"We look forward to working with the BBC Magazines team and in partnership with BBC Worldwide to continue to develop the BBC magazine franchise and to take advantage of the growth opportunities afforded to the business outside BBC Worldwide ownership."
BBC Worldwide magazine sell-off
Titles
ABC circulation Jul-Dec 10
Year-on-year
(Dec end)
% change
Sale:
Radio Times
960,839
-4.0%
All About Animals
24,407
-25.8%
Girl Talk
67,959
-0.1%
Homes & Antiques
60,959
1.2%
Gardens Illustrated
34,033
6.0%
Olive
96,034
2.9%
Charlie & Lola (3rd party)
39,870
-15.1%
In the Night Garden
58,686
-13.0%
Waybuloo
32,271
-17.1%
Bob the Builder
45,142
-8.2%
Who Do You Think You Are
22,373
10.4%
Licence :
CBeebies Art
51,586
-1.5%
CBeebies Animals
30,830
-2.2%
CBeebies Specials
50,422
n/a
CBeebies Weekly
54,345
0.3%
Toybox
32,449
-17.5%
Zingzillas
52,037
n/a
Something Special
n/a
n/a
Doctor Who Adventures
56,648
26.8%
Match of the Day
58,447
-8.6%
Top of the Pops
94,224
-12.4%
Gardeners' World
212,439
-2.1%
BBC History
69,353
7.2%
BBC Music
42,834
0.1%
BBC Wildlife
45,131
1.3%
Countryfile
36,333
30.5%
Focus
72,183
0.6%
Knowledge
n/a
n/a
Sky at Night
21,975
n/a
Contract:
Top Gear
191,539
-4.6%
Lonely Planet
60,106
33.4%
Good Food
332,198
-5.5%
Easy Cook
65,245
-20.3%
Note: Plus all of the 17 specialist titles currently published by Origin – including 220 Triathlon, Perfect Wedding, Knit Today.