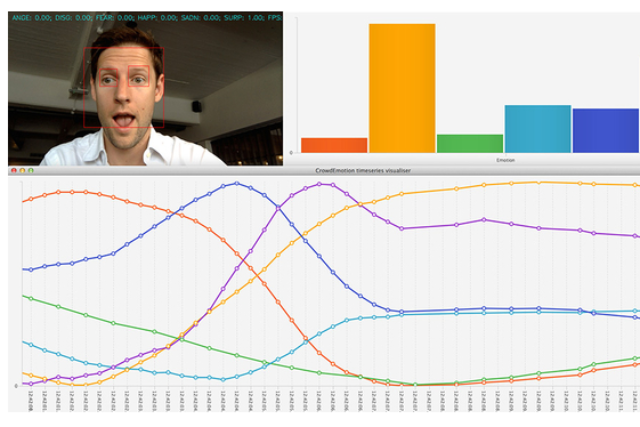 BBC Worldwide, working with CrowdEmotion, one of six start-ups from BBC Worldwide Labs, has already piloted emotion detection among focus groups in the UK, Australia and Russia. Now it plans to run a global study in 2015.
The idea is to help BBC Worldwide invest in guaranteed hits, along the lines of The Walking Dead or Breaking Bad, according to Mary Kyriakidi, vice president of insight for branded services and content at BBC Worldwide.
Speaking at Nimbus Ninety's IGNITE conference, Kyriadki noted that both programmes were initially rejected by big US networks before going on to become hit shows globally.
Other shows that attracted huge investment from networks, such as Life on Mars and Fox's Utopia turned out to be flops.
Kyriadki said: "It's important to minimise the possibility of failure, as we're investing more money into production and commission.
"We're not just acquiring content any more, and because more money is going into commissioning for new genres, the pressure is on to get it right."
Emotion detection
CrowdEmotion's facial expression detection is similar to Microsoft's Kinect, using installed webcams and machine learning to determine whether a viewer is happy, sad, angry, fearful, disgusted or puzzled by what they are seeing.
The concept is similar to dial testing, where participants actively indicate how they feel about content using a smartphone or other device.
A key difference is that CrowdEmotion does not require any active participation, theoretically garnering more spontaneous responses.
The technology also works with any camera, meaning mood-tracking could come to smart TVs in the near future.
BBC Worldwide and CrowdEmotion initially ran an experiment ahead of the third series of Sherlock to determine whether Australian audiences felt surprised, happy or sad about the trailer.
They discovered that those who scored consistently as surprised and sad loved the trailer more than those who found it funny.
Erik Lonnroth, client lead at CrowdEmotion, said: "Our conjecture was that humour was not the deciding factor, it was the darkness and the ominous, surprising elements. That's an important insight for creators."
BBC Worldwide is set to extend its use of CrowdEmotion to help commissioners determine future programming – but Kyriakidi said facial tracking for ads "could be the next step".
Lonnroth said CrowdEmotion was working on emotion detection for ads for other clients.
He said: "It's Interesting to understand not just how an ad affects you when you're invited into a focus group session on a Sunday afternoon, but [when] you're at home and you're flipping the channels.
"You're on your laptop and something comes up – it's that natural environment, where you don't have your guard up and you're not going to expect questions. It's a natural laboratory."
Lonnroth added that, in future, emotion detection could be integrated into iPlayer to help users decide what to watch next.
Read next