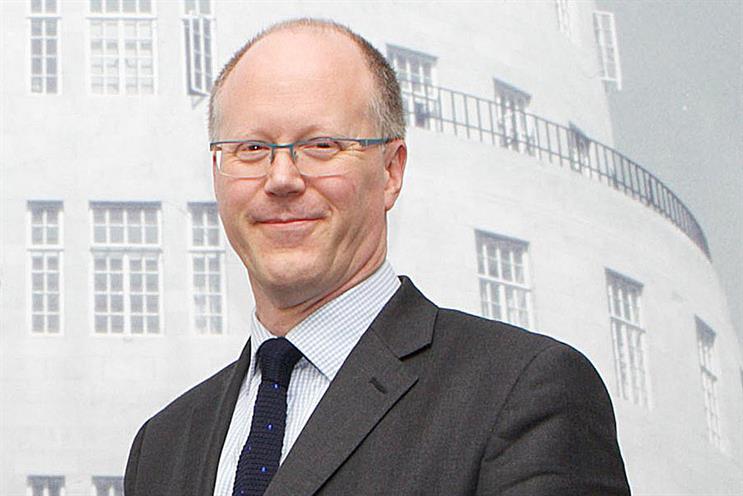 19 March 2012…
Mark Thompson, the BBC's director-general since 2004, announces that he plans to step down some time after the London 2012 Olympics. The newspapers immediately begin to draw up lists of possible successors, including the BBC insiders Caroline Thomson (the chief operating officer), Helen Boaden (the head of news) and the dull but worthy George Entwistle (recently appointed the head of BBC Vision).
4 July…
Outsiders had attracted speculation too – for instance, ITV's Peter Fincham, Channel 4's David Abraham, ABC Australia's Mark Scott and Ofcom's Ed Richards – so there's widespread surprise when the BBC plumps for Entwistle (pictured).
17 September…
Entwistle, his shoes carefully shined and his tie neatly tied, starts his new job. Sadly, as #Savilegate builds momentum (it had all kicked off 11 days into his reign), he turns into the man in the Skittles ad – and the Beeb's once-proud corporate edifice begins crumbling at an alarming rate. Entwistle hits a new low in his statements following Newsnight's shambolic reporting on 2 November of a child abuse scandal in North Wales.
10 November…
And so it comes as no real surprise when Entwistle resigns after a mere 54 (and three-quarters) days in harness. In his statement, he accepts ultimate responsibility for the unacceptable state of the BBC's recent journalistic output. He thus enters the record books, not just as the shortest-lived DG in history but also as the only public figure in living memory to have offered to "do the honourable thing".


13 November…
To whom will the BBC turn in its hour of need? The press quickly installs Richards (pictured) as the front-runner. Some sources "close to" him believe he has a compelling vision as regards the role of a state broadcaster in a fast-moving digital media landscape.
Fast forward…
30 February 2013 And now the BBC is rocked to its foundations as it has never been rocked to its foundations before (not since November, at any rate) when Richards resigns for personal reasons a mere 53 (and three-quarters) days into his DG-ship. In desperation, the BBC Trust appoints Greg Dyke as the interim DG – and he quickly replaces the Newsnight presenter Jeremy Paxman with the former breakfast TV star Roland Rat.