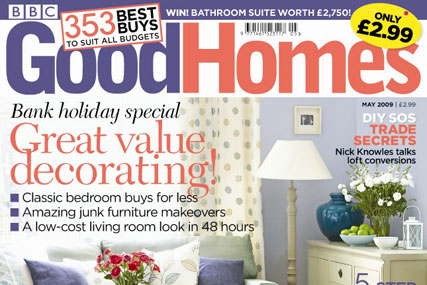 The title, which the BBC announced it planned to stop publishing last month, has been sold to the Kent-based publisher. It will publish its first issue of the magazine in August.
The title will now be entirely independent of the BBC and not carry its branding. No financial details of the deal were disclosed.
Staff, which number about 17, will be asked if they want to transfer with the magazine to Kelsey Publishing.
For the second half of 2008, the magazine posted a headline circulation of 97,725, including 23,142 subscribers.
This was a fall of 23.2% compared with the second half of 2007, although the magazine still outsold many of its rivals in the home-improvement sector, including World Of Interiors, Living etc, Real Homes and Elle Decoration.
Good Homes launched in May 1998 and its circulation peaked in the second half of 1999 at 151,763 copies.
Kelsey Publishing, which was formed in 1989, has a portfolio of 26 magazines and 70 books across consumer lifestyle, motoring and rural sectors. It recently picked up three motoring titles from IPC.