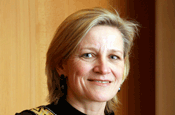 The merger has yet to be finalised, but BBDO has confirmed that once it is completed, the Craik Jones name will no longer exist and the merged entity will operate as Proximity.

All Craik Jones' staff, including the recently appointed chief executive Mike Welsh, will move into Proximity's offices.

It is not yet known what roles the Craik Jones management team will assume, although it is understood that Welsh will retain a senior title at the newly merged agency.

Amanda Phillips will remain as chief executive of Proximity.

Cilla Snowball, the Abbott Mead Vickers BBDO group chief executive, said: "Together we can provide a formidable creative force and deliver our clients and people more opportunity for growth.

"There are benefits for both companies in the proposed merger."