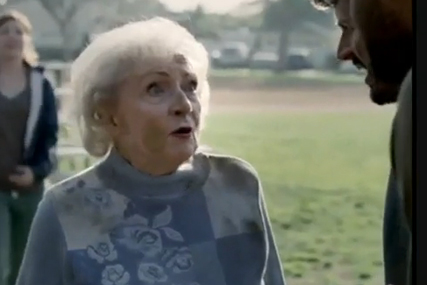 Nearly 60 ads were shown during yesterday's game, which was won by underdogs the New Orleans Saints, by 31 points to the Indianapolis Colts' 17 points.

The earliest feedback on how brands' efforts went down with the audience was supplied by USA Today's Ad Meter, which measures the response of focus groups as they watch the game.

Snickers topped the poll with a rating of 8.68 out of 10. BBDO secured the services of well-known octogenarian actors Betty White and Abe Vigoda, who gamely got dumped in the mud in a game of American Football in a park.

The ad showed a young man literally playing like an old woman, until he ate a Snickers bar.
BBDO's effort was nearly beaten by a consumer-generated ad for Doritos, which won last year's poll with an ad created by two unemployed brothers.

Doritos ran four spots this year, which were all placed in the top 20, after running a competition encouraging people to create their own ad ideas.

It claimed second place with a skit showing a man teasing a dog by putting an anti-bark collar (which delivers an electric shock when it barks) on the animal and telling it to beg for Doritos. The dog manages to put the collar on the man and steal his chips.
In third place was a Bud Light ad, featuring a man showing his friends round a house built of beer cans. When a girl praises him for his environmental commitment, it turns out the cans are still full.
The ad was one of seven run by Budweiser brewer Anheuser-Busch, which topped the USA Today Ad Meter for 10 years in a row until 2008.

Another way of gauging instant reaction to the ads was to scour Twitter for mentions, which was what ad agency Colle+McVoy did.

It found that Doritos was the brand most talked about on the microblogging site, with 35,000 tweets. More than 21,000 of them came after one Doritos ad showing a child slapping a man visiting his mother, after the man took one of his chips.


The Super Bowl provides advertisers with the chance to reach a mass audience – last year's event was seen by 98.7 million people in the US – and spots this year cost between $2.5m and $3m.

Google overcame its aversion to TV advertising and spent an estimated $5m on a 60-second spot. The ad, which has already run online, showed a love story playing out through one of the lovers' searches on Google, from a trip to Paris to instructions on how to build a crib.
Major sporting events such as the Super Bowl are reaching larger global television audiences than ever before according to research from Mediabrands' Initiative.
More on Brand Republic blogs