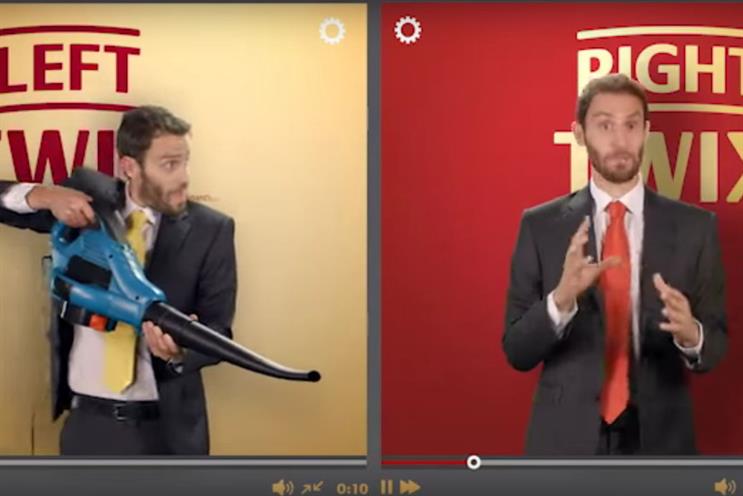 Ten agencies from the BBDO network were given one day to create an online ad for the "left Twix, right Twix" rivalry campaign.
They were invited to use the YouTube space for the "create-a-thon", which is available only for vloggers on the platform and has a full studio and editing suite.
Work from BBDO teams in Brazil, Colombia, France, Germany, the UK and the US was featured for a day through YouTube TrueView, which enables people to press the skip button after five seconds.
The ads were tested in the US, the UK and Netherlands on how many people viewed up to 30 seconds or more of the ad, and how many were able to recall it.
AMV BBDO's ad, "YouTube vs YouTube", set up a video player that sees two salesmen for Twix sabotaging each other's pitch by turning the volume down or pressing fast forward.
David Lubars, the worldwide chief creative officer at BBDO, said: "The world is completely different now, everyone knows that, we're in undiscovered country. Standard ways of testing and evaluating work, well, a lot of it has become obsolete.
"Now the most telling test is finding out if real people out there opt out on you after five seconds – to me, that's real learning. Working with YouTube and Twix, we learned a ton about using creativity to keep people in; have them want to stick with you all the way through."
Read more in next week's magazine as Campaign went behind the scenes on the shoot of the winning ad.