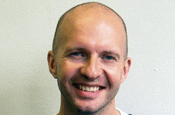 He has been hired to replace Nick Gill, who was promoted to the role of executive creative director in July this year.

Reporting to Gill, Tucker will be responsible for running a number of as-yet-undecided accounts as well as working closely with Mark Reddy, the head of art, on improving the quality of creative.

Gill said: "We're delighted to have Adam joining us. His print book, in particular, reads like a D&AD Annual.

"He'll be doing a similar job to the one I used to do here, in that he'll be running some big accounts, and at the same time still having opportunities to write."

Tucker added: "It's great I'll get a hand in the development of the work, but also that I'll be able to work on briefs.

"I'm not ready to hang up the creative boots yet. BBH has the reputation of pushing itself to create great work, and in making Nick the executive creative director, it will only get better."

Since the beginning of the year, Tucker has been freelancing for agencies such as Wieden & Kennedy, Mother and at the BBC. Before this, he spent seven months at Fallon.

Before joining Fallon, he spent eight years at DDB, eventually working as deputy to its executive creative director, Jeremy Craigen. He started his a career in 1996 at FCA and moved to DDB in 1999.