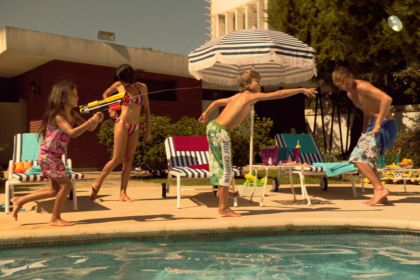 Based on the idea of "feel good fashion", writing the Matalan campaign should have been simple. "We open on lots of models having fun round a pool, wearing clothes from Matalan." Right? Wrong.
"It's kind of an infinite looping pool-party-cum-catwalk with a nod to causality where the action is both forwards and backwards without any editing. No, hang on ...
it's 360 degrees of action captured simultaneously and the action loops, yet doesn't ... erm?"
Some films are just too tricky to describe on paper, and when the Matalan summer script hit page four, we realised we needed a different approach. Eventually, it took a video walkthrough of a 15-foot-long storyboard to bring the director Scott Lyon on board.
Never one to shy away from a technical challenge, Scott wanted to capture as much of the action as possible in a single take.
This involved rigging an impressive camera directly in the middle of the pool and placing the performers around it. Frederico, the head of the Argentinian production company Ursulacine, looked on nervously as the latest Phantom Flex camera was dangled over the water by the capable crew.
Filming in a complete circle created its own set of problems. With no sets and few joins, there's literally nowhere to hide.
It also meant that every single character had to be scripted, taking into account how their actions affect not only those around them, but themselves in the second and third rotations. The four-page epic came in handy after all.
The reverse sequence was surprisingly easy to achieve. Using an ordinary motion control head, we filmed the action in one direction, then filmed it again with the camera rotating in the opposite direction, stitching the takes together. "Essentially, we shot everything combining three different 20-second takes to make up the 60-sec-ond spot, but we did take elements from around 20 different takes to get the perfect actions on all our characters," Scott describes.
Naturally, the biggest headache came for those handling continuity. To do this, we basically split one job into four, with each person assigned to watching a particular group of people. Needless to say, it was a mammoth task, which involved a lot of watching playback.
The task was simplified thanks to the help of the editor Art Jones and the shoot supervisor/Flame artist Wes from The Mill. They were able to not only cast an eagle eye over the action but also to quickly edit the sequences together, allowing us to hone the performances and timing where necessary.
Without technological advances, such as the on-set editing and the HD camera, the ad wouldn't have been possible. "If we'd have shot on film, we'd have burnt through a whole mag before we got halfway round the pool," Scott adds.
Filming in slow-motion meant that a third of the ad was captured in less than three seconds. The cast would have to anticipate the moment when the camera was looking at them and be very precise with their marks. I don't speak Spanish but, from what I understand, the first assistant director had little time to direct anything more than "Action! Have fun! Cut!" He still had his work cut out: the kids and dog had consistently better timing than any of the adults.
Because so much of the hard work was achieved on set, editing back at Work Post in London was a quicker process than anticipated. Much of the selection process had already been done but for some tweaking. It was then over to the ever-capable Wes for the issue of matting the takes together.
The biggest post-production element was probably the ball at the end of the film. Curiously, although it was originally captured in camera, it somehow still didn't quite feel real back in the edit suite. This has been attributed to Wes' throwing arm, so The Mill built a convincing new ball in 3D.
Finding music for commercials is usually an arduous task. Andy Clough and I often sift through a thousand tracks before bleeding ears and broken headphones force us to present something. Thankfully, Black Sheep Music came up trumps at an early stage with Where I'm Going by Cut Copy. It's a shamelessly feel-good, catchy number that everybody fell in love with in an instant.
Will we be producing video storyboards instead of scripts in future? Undoubtedly. Although our executive creative director, Nick Gill, suggests that we should work on our technique first. "Their walkthrough of the boards was like watching Les Dawson impersonate a kids' TV presenter," he generously described.
Richard McGrann is a creative at Bartle Bogle Hegarty