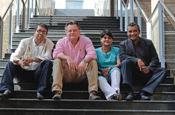 The agency has appointed Priti Nair, the former national creative director of Grey, Partha Sinha, former chief strategy officer of Publicis India, and Subhash Kamath, the former group chief executive of Bates 141, to run the venture.

All three take the role of managing partner and will have an equity stake in the business. The new agency will be operational by the end of 2008.

Simon Sherwood, the group chief executive of BBH, said: "It became clear to me that, if we needed to attract the best people, build a proposition for them that would be motivating and incentivising, then sharing in the equity would be a significant factor.

"BBH will have a substantial majority but there will be equity participation from all three."

He added: "It's always been our ambition to be an effective global business and we have been looking to cut a global footprint that matches that of our clients.

"It is impossible to say that it's a job well done without having a presence in this market. So, in order for us to be competitive, it's been apparent for a while now that we would need to have a presence here.

"It has been on the agenda for a couple of years and now we are about to go live with a presence in this market. It's like a piece of the jigsaw that fits in."
Kamath added that as well as working on global business, the new agency will pitch for local accounts.

He said: "We are very clear that we cannot be dependent only on global business. A few years down the line, I can see a fairly good balance between global and local clients in our agency."
For more from the founding partners, visit www.campaignindia.in