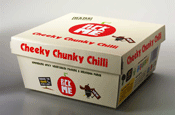 One is a personal alarm for women, called IlaDusk, while the second is a range of ready meals, called Pick Me, that are already available in almost 1,000 Tesco stores.

The alarm, which will launch this week exclusively in Marks & Spencer, has a woman's scream instead of a siren because at times of high adrenalin and in stressful circumstances, some women can lose their voice.

Pick Me is a range of meat-free ready meals that launched in more than 800 stores earlier in the month. Flavours include Nutballs and CheekyChilli.

Neil Munn, the chief executive of Zag, said: "If you're involved in a start-up, it takes time to find the right rhythm and to pinpoint exactly the right business model. With Ila and Pick Me, we are now doing that. We have two exciting differentiated brands, we have like-minded partners who are providing the operational muscle, and we have the support of two of the UK's biggest retailers. It's exciting, it's unpredictable, it's all the things you'd expect from an entrepreneurial business trying to find its way."

Zag was launched in 2006 and primarily invents its own brands and takes them to market with joint venture partners. It also builds brands in response to specific opportunities brought to it by clients.