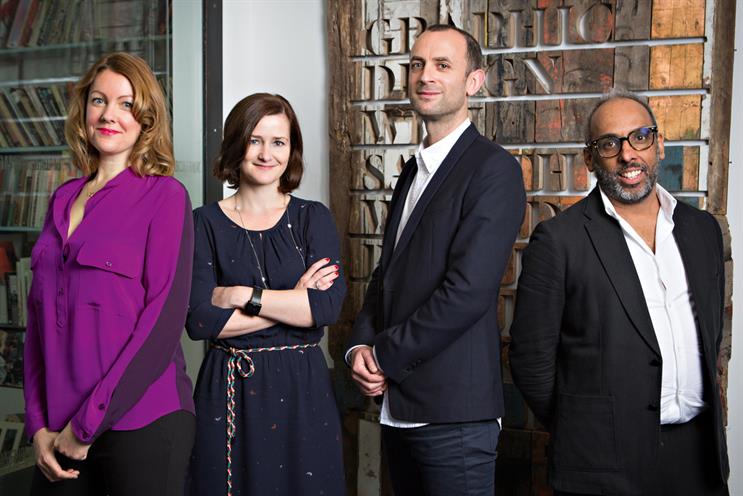 There is never a good time for an agency to lose a marquee client, but there are definitely bad times.
When Bartle Bogle Hegarty lost the Johnnie Walker creative account last month on the day of its Victorian London Christmas party, that was a bad time.
BBH had been Johnnie Walker's agency for 15 years and delivered transformative campaigns for the Diageo whisky brand – including "the man who walked around the world" starring Robert Carlyle (pictured, below) – but was dumped for Anomaly.
Echoing his agency's strap­line for Johnnie Walker, the BBH co-founder Nigel Bogle said of the loss: "This is obviously disappointing news but we will keep walking."
That's the thing about BBH. The agency has a way of coming up with ideas that become totems for itself as much as its clients.
BBH famously adopted its black sheep logo and "when the world zigs, zag" mantra from its 1982 Levi's ad. Now, "keep walking" seems just as ingrained in its thinking.
When Campaign met BBH's new management team to discuss their vision for the agency, the theme came up again and again, even if no-one uttered those exact words.
"The first thing we did when we sat around that table as a management group was decide what kind of culture we wanted to foster," Mel Exon, BBH's managing director, said. "That starts with some stuff that's in the DNA of BBH – a restlessness. We always want to move things on."
Exon is part of the fourth-generation management team at the agency, alongside the deputy creative director, Caroline Pay, and the joint chief strategy officers, Jonathan Bottomley and Jason Gonsalves.
They are responsible for the day-to-day running of the business as Ben Fennell, the chief executive, and Nick Gill, the executive creative director, focus on senior clients and entering new specialist areas.
BBH has a reputation for seamlessly transitioning between management teams but, this time, the handover seemed – from the outside, at least – less assured.
On top of the doomed Johnnie Walker pitch, other cracks appeared in BBH's usually faultless facade in 2014: there were fewer examples of great work and reports that more staff were putting CVs on the market, as well as a vague but prevalent feeling that the end of the owners' earn-out with Publicis would change the dynamic of the agency.
But there were triumphs too. BBH retained the British Airways creative account and deepened its relationship with the airline by creating a CRM division to service its direct advertising needs.
Nonetheless, 2014 was not a vintage year. The reason that BBH wasn't at its best, according to Exon, is that the agency has been "in the garage" working on itself. "Now," she said, it's "ready to go".
"BBH is based around ideas and a culture that gives people the space to have ideas," Bottomley said. "We want to keep that tradition but reframe it in a more modern and more connected way.
"Our play is to bring the creative, innovative thinking we've always been known for to a broader mix, and we're going to have to work with specialists – quite often people we've brought in from other places. That's the vision."
Other new specialist units include a low-cost production arm, a creative studio in Milton Keynes and a digital products and services business.
In the new-look agency, producers will be given a seat at the top table with the introduction of the role of production director too.
The idea is to become the irresistible choice for clients looking to cut back their agency rosters: to come up with the big, integrated ideas and then have the specialists to implement them.
"We have to update our creative-values system and think differently about creativity," Gonsalves said.
"We want to be part of building how people interact and shop. These products won't look like ads and you won't be able to enter [them] into awards shows, but they will be part of people's lives."
This means changing working practices at BBH. Pay said: "There's still a massive need for traditional creative teams, but what I'm trying to do is loosen it up a bit and throw in a designer or a screenwriter at the beginning."
Similar changes are ringing through the strategy and account handling departments.
"We used to have retained relationships where everything was done over the space of a year or so," Exon said. "And while there is still a retained element to the fee, there is an increasing amount that is project-based and so we need [account] people who are hungrier and much more fleet of foot."
Change is not for everyone, however, and this could explain why rival agencies talk about getting approached by BBH staff, Exon concedes.
Still, if there's one thing the new management team has in spades, it's enthusiasm.
"There has never been a better time to do what we do," Bottomley said. "Having had 18 months of thinking hard about what the model needs to look like, we feel these are years when we can leap ahead."
Of course, any agency that has been paying attention to the market is changing along these lines – or at least is talking about it. Where BBH sees its advantage is having the best brand and ability to attract the right people to make it work.
It's an argument that has some weight behind it, and the BA win is a compelling case study. But, as Johnnie Walker proved, not everyone is convinced. It still has a long walk ahead but, if any agency has earned the benefit of the doubt, it is BBH.