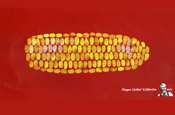 The posters show pictures of KFC products created by finger painting, and restore the famous slogan after an absence of nine years.
The produces include a chicken drumstick, a mini fillet burger, a popcorn chicken and a corn on the cob.
Marc Hatfield, creative director at BBH said: "We wanted to reintroduce a world famous line by breathing new life into it, using finger painting to visualise a range of KFC products."
Recent campaigns for KFC have focused on the family eating experience, and attempted to communicate the quality of its products.
CreditsAgency:
Bartle Bogle Hegarty (BBH) London
Client:
YUM! Restaurants International
Brand:
KFC
Main Client Name and Title:
Jennelle Tilling, vice president marketing
The Brief:
To explain what KFC means by Finger' Lickin Good
Campaign Title:
Finger Lickin' Good
Launch Air Date:
21st April 2008
Creative Director:
Marc Hatfield
Creative Team:
Nick Kidney and Kevin Stark
Agency Planner:
Ed Booty
Account Handlers:
Anuraag Trikha (Business Director)
Art Direction/Typography:
Ali Augur
Media Distribution:
National 6 Sheets, 48 Sheets and Phone Booths
Media Company and Media Planner:
Walker Media