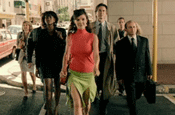 The decision has been made following a series of meetings regarding the future direction of the advertising.

BBH and SCA worked to position SCA's Bodyform and Libresse products as challenger brands, to make women reappraise their relationship with the feminine hygiene category.
The campaigns have focused on how much more secure women who wear Libresse feel. The strategy 'Libresse security' has created ads such as the 2006 'vote for change' and 2007 'laughter'.

John Hegarty, chairman and worldwide creative director of BBH, recently said: "I'm very proud of the campaign we're now running. You laugh more when you feel secure. Whatever you're doing, laughter is fundamentally important."

At present it is unclear if the account will be the subject of a competitive pitch or handed to another SCA Hygiene roster agency.

SCA Hygiene appointed BBH to its £50m pan-European creative account in November 2003 after it pitched against a number of undisclosed UK and European creative agencies.

Ben Fennell, managing director of BBH London said: "We wish SCA the best of luck in the future."