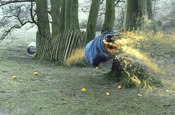 The move is part of a realignment of the drink's company's brands that will see BBH handle all of its fruits and carbonates and CHI working on its water variants.

CHI already handles Drench and recently created a TV spot featuring Brains from Thunderbirds dancing to the classic 90s track Rhythm is a Dancer.

For the full story, see tomorrow's Campaign.