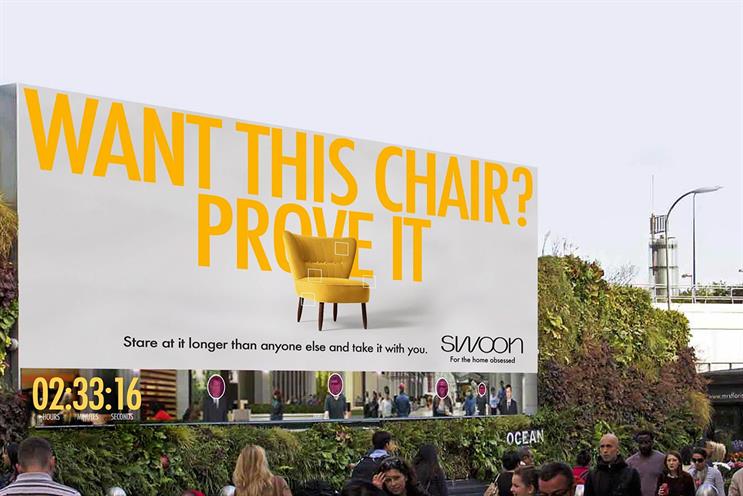 The contest rewards innovation and excellence in concepts created for digital out of home. Winners share a £650,000 prize pot and the chance for their work to be brought to life and showcased across Ocean's UK DOOH locations.
The agencies each won gold in the brand and charity categories respectively.
Furniture retailer Swoon, Microsoft XBox and Skoda took gold, silver and bronze in the brands category at a breakfast awards ceremony on Thursday 11 October at the Waterloo iMax in London in front of a 500-strong audience.
The charity winners were The National AIDS Trust, the CyberSmile Foundation and the Spinal Injuries Association.
Alongside BBH and St Luke's, the other winning agencies were: McCann London; Drum and Omnicom Media Group; ALLGOOD and Partners Andrews Aldridge.

"Obsessed", BBH's winning ad for Swoon, rewards passers-by with the chance to win an item of furniture on the screen if they look at it the longest. The ad uses Ocean's responsive screen technology.
"Rock the Ribbon" (below), created by St Luke's for The National AIDS Trust, uses Ocean's motion gesture technology to transform people into virtual dancing red ribbons as they perform in front of a screen.
There was a record number of 150 entries to the competition this year, judged by 18 media and creative experts.

Ocean CEO Tim Bleakley said: "Ocean organises this competition to challenge brands and agencies to reimagine the creative possibilities of digital out-of-home. This year we have received record entries and some stunningly simple, bold ideas which do just that.

"The winners are striking for their visual impact and the innovative use of DOOH technology to meet business objectives. All of them show how technology can engage with audiences in imaginative and immediate ways. I look forward to seeing their concepts brought to life."
This year, for the first time, Ocean also called for ideas that align brands or charities with its Ocean for Oceans initiative, which is using Ocean's screens to help turn the global tide on plastic to stop it polluting the world's seas.

The two winners in this category are Glimpse for Sea Change and 23Red for City to Sea.

The full list of winners and campaigns is:

Brand Winners

First Prize
Brand: Swoon - Obsessed
Agency: BBH

Second Prize
Brand: Microsoft Xbox – Xbox Gaming Tourism
Agency: McCann London

Third Prize
Brand: Škoda – Rally Sport Live
Agency: Drum – Omnicom Media Group


Charity Winners

First Prize
The National Aids Trust – Rock the Ribbon
Agency: St. Luke's Communications

Second Prize
The Cybersmile Foundation - #DeleteTheHate
Agency: ALLGOOD

Third Prize
Spinal Injuries Association – Donate to Accelerate
Agency: Partners Andrews Aldridge

Ocean for Oceans Winners

Brand: Sea Change – The Sea Is the Sky
Agency: Glimpse

Charity: City to Sea – Hydration Station
Agency: 23red