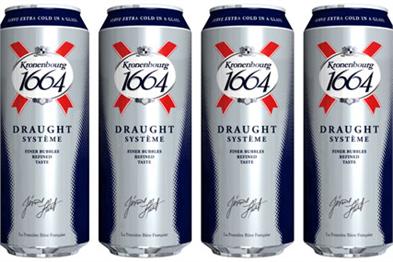 The lager brand is readying a multimillion-pound marketing assault to assert its premium positioning in the UK. BBH, which already handles the advertising for Kronenbourg's parent company Heineken, will create an October push across TV and national press ads promoting Kronenbourg as an at-home drink.

The activity follows the launch of a new off-trade pack design and the introduction of the Dynamo Systeme, an in-can widget that recreates the taste of draught lager. The packaging design was handled by G2 UK.

In the 12 months to October 2009 Kronenbourg witnessed a decline of 8.8 per cent in sales to £103 million in the off-trade, according to Nielsen. It is however the second biggest selling premium lager in the on-trade.

Earlier this month, Heineken UK rolled out a campaign for Foster's, created by Adam & Eve, which taps into the Australian "no worries" attitude. M&C Saatchi also previously handled the Foster's account.
Both Heineken UK and BBH declined to comment.