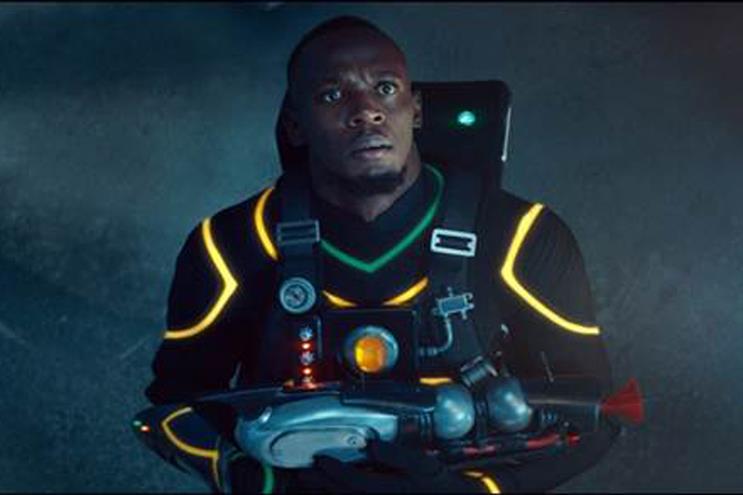 Bartle Bogle Hegarty London's last ad for Virgin Media launches tomorrow evening as a roadblock across ITV's five main channels.
The spot features long-time brand spokesman Usain Bolt and is part of the brand's "Switch to super" campaign that promotes Virgin Media Intelligent Wi-Fi service.
It will run simultaneously across ITV (during The Voice), ITV2, ITV3, ITV4 and ITVBe – as well as regional channels STV and UTV – at 8.30pm on 30 March. The launch of the ad is part of the broadcaster's Proudly Presents initiative (recently rebranded from Proud to Present) and it is the first time that ITV has used this format to roadblock a single ad across all of its channels at the same time.
Viewers will experience a short spoof takeover of their TV – apparently caused by a "Wi-Fi issue" – as a prelude to the 60-second film.
The ad itself will show Bolt reprising his role as the SuperBolt superhero and leans heavily on elements from DC Comics' Batman.
At his "secret location", Bolt complains that his Bolt-Signal (as opposed to a Bat-Signal) is not working because of a dodgy Wi-Fi connection.
SuperBolt's manservant, an older gentleman reminiscent of Batman's butler Alfred, explains how Virgin Media's Intelligent Wi-Fi "will automatically help sort it".
Virgin Media confirmed that the spot is BBH's final work for the brand. However, a spokesman would not say whether Bolt would reappear in Virgin Media's future advertising.
BBH had held the account since 2011, but Adam & Eve/DDB won the ad account earlier this year after a competitive pitch.
The work was created by Marc Rayson and Callum Prior, and directed by Jake Szymanski through Caviar.
Cilesta Van Doorn, brand director at Virgin Media, described the ad as a "significant moment" as it appeared across ITV channels simultaneously for the first time.
She added: "The ad is the next chapter in SuperBolt's journey and sees him struck by connectivity conundrums before our Intelligent Wi-Fi steps in and saves the day – just like it will for our customers."
The "Switch to super" campaign will continue to feature across TV channels for eight weeks and supported by a wider marketing activity across print, radio and digital platforms, as well as Virgin Media's social media channels. Manning Gottlieb OMD handles the media planning and buying.