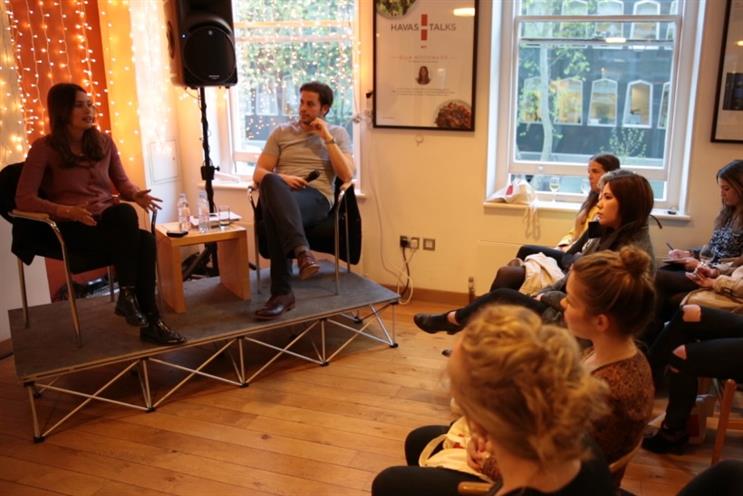 Speaking at a new series of debates hosted by London ad agency Havas London, the blogger, who has over 6m monthly unique users to her site, was asked her views on nutritional education, "food porn" and the impact of eating well. After being diagnosed with a chronic illness Woodward chose to reassess the way she ate; she now teaches cooking lessons, released an app which has nearing 100,000 downloads and wrote the fastest-selling debut cookbook since records began.
She started by reassuring host Anthony Edwards, strategy director at Havas, and the audience that she's keen not to promote another diet, as "there's more to a diet than just eating kale chips", but instead empowering people to make healthy choices. So, when looking at Protein World's poster, her main concern is the unhealthy and artificial ingredients in their product.
"Slimming powders are not the answer and can't take the place of a healthy, active lifestyle". Ella's philosophy is simple; food should be connected to positive emotions, not negative or shaming.
I feel the reaction is a little extreme – I agree it's not promoting a positive message – but we should be looking at the product, not the girl herself
The infamous yellow billboards have garnered over 360 complaints according to the UK's marketing watchdog ASA and are stirring up some strong reactions on online petitions and social media. However, Ella Woodward feels protesters are missing the point; "I feel the reaction is a little extreme – I agree it's not promoting a positive message – but we should be looking at the product, not the girl herself. If we're talking about body shaming, then we shouldn't be criticising the girl in the poster either."
On the issue of brands advertising on her platforms, Woodward said: "I'm open to brands but I'm very strict. I would never represent a product which I wouldn't have in my own kitchen and use regularly. The thing that has been most helpful in my career is the trust from my followers, so I wouldn't want to betray them."
Further advice for brands came when Woodward commented: "It was really insightful, within the first three weeks of my book coming out [I was] seeing everyone make the same three favourite recipes, which helps you tailor the content to your fans."
She said she feels that brands could do more to deliver healthy food that people are being turned on to with blogs raising awareness.
"I am concerned that people are now looking for healthier foods, but brands just aren't keeping up. Foods might present themselves as healthy, but a lot of gluten free products are filled with stabilisers and chemicals. Brands need to listen to what people are starting to look for and the ones that do this will be the ones that come out on top," she commented.
Woodward's success is built on social media and she is a big fan of Instagram, "I spent 3 hours on Instagram today, do I think it's a waste of time? No, it's what my followers would expect. I'm not restrained by explaining my food in a certain number of characters, but with a photo, I can let that talk for me. I taught myself how to use a camera, as I wanted to be the one taking the photos, not someone else. It doesn't need to be perfect, just honest."
When asked about what the future would hold Woodward said, "I am going to concentrate on my website – I want my blog to be the go-to for healthy food. I would like to go down the [Jamie Oliver] route and help educate people. Educating people is so important and that's why I am not worried about other health food bloggers. Whilst everyone is still learning about good food, I think there's plenty of space online for everyone, I want people to be excited about good food."
---
Recommended