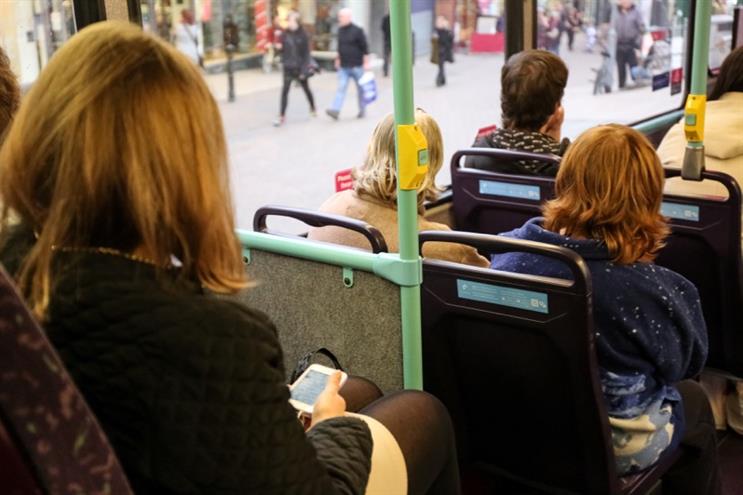 The system has been designed with Proxama, a mobile proximity marketing company, and uses Bluetooth Low Energy (BLE) to communicate with smartphones that have Bluetooth switched on.
A participating brand's app will be able to use the connection to send targeted messages and alerts to users. No brand partners have been announced to date.
Jason Cotterrell, managing director UK at Exterion Media, said: "Our ultimate aim is to deploy this technology across our portfolio nationwide, with a long-term vision of providing full connectivity across buses in the UK."
The technology has been trialled on buses in Norwich, but London was targeted because it has the highest penetration of smartphones in the UK and an estimated average bus journey time of 17 to 19 minutes, according to research by Exterion.
The trail in Norwich tracked usage of beacons on 110 buses for six months. Twenty local retailers participated, communicating with potential consumers through the location and offers app Loka. Exterion reported 2,000 app downloads during the trial period and a 30% click through rate on notifications served.
John Worley, the chief executive of Proxama's marketing division said: "The trial in Norwich and our partnership with Exterion Media showed us that consumers are open to receiving content via their mobile devices while they travel, so we expect to experience a similar level of success once we roll out across London."
The 500 beacon-enabled buses will appear on the following 59 routes.
Battersea depot: 3, 49, 156, 211, 344, 414, 452, c2, c3
Holloway depot: 4, 17, 24, 43, 46, 91, 134, 271, 390, 603, w7, 143
Shepherd's Bush depot: 94, 148
Stamford Brook depot: 9, 10, 27
Westbourne Park depot: 23, 70
Stamford Hill depot: 67, 73, 253
Tottenham depot: 41, 67, 76, 123, 149, 230, 341
Bow depot: 8, 15, 205, 277
Brixton depot: 59, 109, 137, 159, 319
Waterloo: 507, 521
Stockwell depot: 19, 77, 87, 88, 196, 249, 333, 337, 639, 670