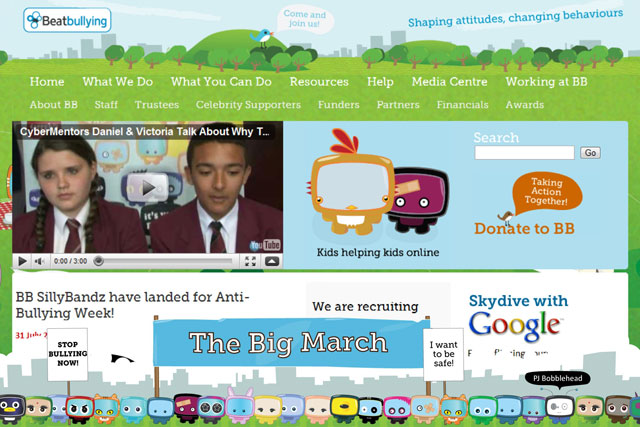 Beatbullying has created the first global, virtual march for children's rights.
The charity hopes to get more than two million people to march virtual avatars across as many websites as possible on 1 March.
The event is expected to last 48 hours and will finish at a virtual representation of the United Nations building in New York.
Beatbullying wants to ensure the UN includes the term "bullying" in the UN Convention on the Rights of the Child (UNCRC).
The march has more than 135,000 supporters already, with celebrities such as Twiggy, Jedward and Pixie Lott taking part.
It follows the success of the integrated campaign for 'The Big March 2011', which ran across 100 corporate and charity websites in the UK to deliver its anti-bullying petition to a virtual 10 Downing Street. A physical copy of the petition was also handed to deputy prime minister Nick Clegg.
MediaCom has secured free advertising space from global media owners in order to promote the activity worldwide.
Emma-Jane Cross, chief executive of Beatbullying, said: "It's fantastic to be working alongside global brands and see industries come together in this way, with businesses around the world taking a united front, with Beatbullying leading the way in the fight against child-on-child fear, harassment and abuse.
"Thousands of young people have taken their own lives as a direct result of being bullied. This must stop. Every child has the right to a life that is safe, dignified and free from violence and bullying.
"United we're stronger, and the support of organisations and business around the globe is vital to achieve a world where bullying is a thing of the past.
"So we're asking for the support of parents, teachers, young people, brands and communities from all corners of the globe on The Big March 2012 – together we can make a difference to children's rights with the largest globally connected digital take over the world has ever seen."
Last week Barnardo's children's charity launched the 'Believe in Children' campaign.
Follow Loulla-Mae Eleftheriou-Smith on Twitter: @LoullaMae_ES