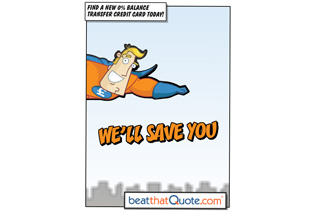 The campaign is the first marketing activity following the recent appointment of Flourish and All Response Media to handle all online and offline communications and media buying, worth approximately £8m.
The credit card campaign focuses on the range of balance transfer and low APR deals on offer. Flourish has developed a 'Money heroes' character that shows how BeatThatQuote.com can save consumers from a 'monstrous APR'! The banner campaign is set to run throughout September and November.
BeatThatQuote.com covers a range of financial products and services including mortgages, credit cards, loans and home and car insurance.