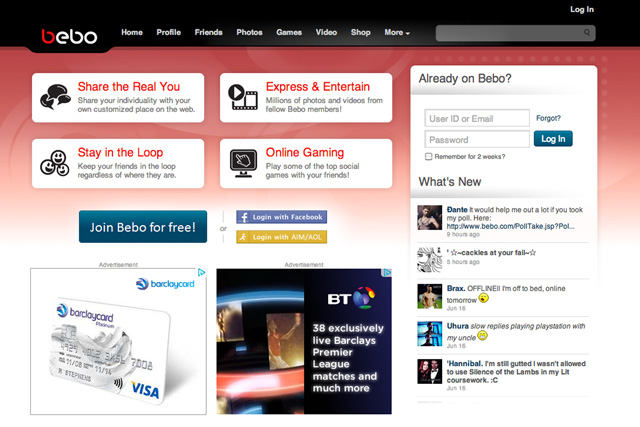 The rise and fall of Bebo is a fascinating story that, you could argue, en­capsulates how fast and superficially perceived multimillion-pound businesses can be built and destroyed online. The brainchild of Michael and Xochi Birch, Bebo was launched in 2005 after the dust had settled on the first dotcom crash, but just in time to catch the next wave. It was soon accruing decent user numbers – and was, alongside MySpace, one of the first sites to alert everyone to the potential of social media platforms.
Its audience had risen to 40 million monthly users, mostly teenagers, when AOL bought it for $850 million in 2008.
Much has been written about the wisdom or otherwise of paying this sort of money for a business just over three years old. And AOL has also been demonised for its management of the brand. But the truth also is that Bebo was rolled over by the juggernaut that was and is Facebook.
AOL sold it to Criterion Capital for around $10 million in 2010; and, last week, Criterion having declared it bankrupt, Bebo came full circle when its founders picked it up at auction for $1 million.
The relaunched site will be led by the Birches' ideas lab, Monkey Inferno. Its chief executive, Shaan Puri, says: "We know the odds are stacked against us, but we love challenges and Bebo users deserve better than what they have received the past few years."
He will not be cheered by the fates of those other pre-Facebook networks still trying to reinvent themselves. MySpace (once the world's most popular social media site) was sold by News Corporation to Specific Media and Justin Timberlake in 2011. It has since been through a prolonged period of redesigns and tweaks, many of which have alienated existing users. Friends Reunited was sold to Brightsolid by ITV in 2009 and has become a niche proposition within the company's already well-established nostalgia and family marketplace.
So to Bebo, once viewed as a digital pioneer for its in­ternet-based programmes – Sofia's Diary and KateModern – that made the transition to TV. By 2013, Bebo's audience has all but disappeared. It now has less than half-a-million loyal users in its UK heartland. So, in reality, is it possible for Bebo to bounce back?
YES Nathalie Coulibeuf, social media director, PHD UK
"Younger people are eager to find new social platforms, as proved by Snapchat – Facebook is not as popular as it was. It needs to find a new approach, not just piggyback on the success of dominant platforms."
NO Simon Mansell, chief executive, TBG
"It's a bit like Steve Jobs returning to Apple, isn't it? No, it's like a thief returning to the scene of a crime. Even a thief with $849 million to play with will lose. The space is now mature – Facebook, Twitter, Instagram and Snapchat are too strong."
NO Amy Kean, head of consumer innovation, Havas Media
"When an old social media site relaunches, to rely merely on a big PR push and a new design, repurposing the best bits of other popular social networks, is a little naïve. There's now a new generation of platforms that young people adore."
NO Jerome Courtial, head of strategy, We Are Social
"Bebo was a product of its time, sold at the perfect time. Its success was built on the lack of [rival sites targeting] the teenage market, but consumers crave new ideas – and it will struggle to get any momentum in today's innovative market."