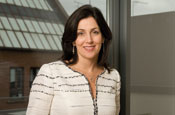 Launch sponsor Sony Ericsson has signed up to support The Secret World of Sam King for the first three months, and the deal will include references that integrate the product and its other properties into the show.
The online drama is produced by Universal Music UK's production arm Globe Productions, in partnership with Monkey Kingdom.
The show is to be based on the real-life workings of Universal's West London headquarters and will include cameo appearances from Universal artistes.
Members of the social network will also be encouraged to shape the creative output of the both the show and Sam's label, appealing to prospective marketers, songwriters, journalists, video producers and A&R scouts.
As with Bebo's previous shows KateModern, Sofia's Diary and The Gap Year, Bebo will make The Secret Life of Sam King available through the main Bebo site and will also distribute it across parent company AOL's channels.
Bebo's chief executive Joanna Shields said: "Both KateModern and Sofia's Diary have demonstrated that Bebo has an active user base that is drawn to quality drama that they can interact with and share with their friends. We're confident that the subject matter for The Secret World of Sam King and the opportunities for involvement will resonate well with our community."