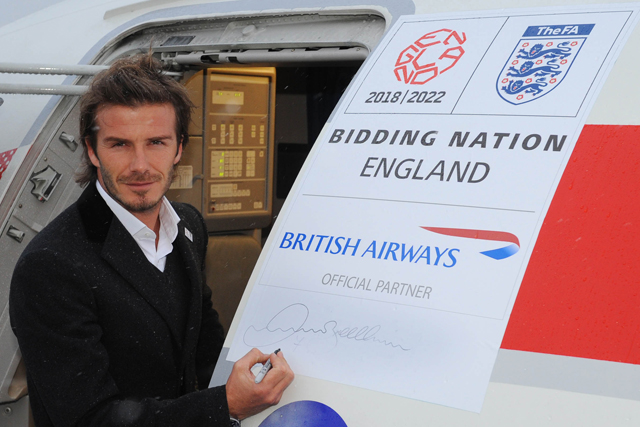 BA is the official airline of the England 2018 bid and flies the team to Zurich today to hear Fifa announce the host nation on Thursday (2 December).
Beckham's signature sits alongside hundreds of names collected on an electronic board in Heathrow's Terminal 5 during August's Back the Bid week.
The signatures include Rio Ferdinand, Fabio Capello, Bobby Zamora, Daniel Sturridge, Ray Clemence, Trevor Brooking, Gary Lineker, Stuart Pearce and Andy Anson.
Beckham said: "I'm extremely proud to be flying to Zurich to represent the England 2018 bid, and to be travelling with the hopes of the nation on this official aircraft.
"I hope that the next time I'm on British soil, I'll be with the winning England 2018 bid team."
BA will also fly the prime minister David Cameron and the culture minister Jeremy Hunt to Zurich as part of the bid.