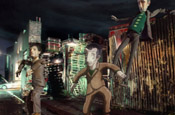 The company, which is based in Belgium, has approached UK agencies with a full-service brief to handle online ads, website development and digital media planning and buying.
Following initial meetings, InBev has now shortlisted several digital specialists to pitch for the multimillion-pound account.
The review, which is being overseen by ISBA, will see InBev assemble a roster of digital shops to boost the Beck's brand online. The pitch process is expected to be completed by mid-February.
InBev works with a variety of agencies on digital projects for Beck's. It recently hired Meme to launch an online ad campaign promoting Beck's Fusion, a music and arts festival that took place in various locations in the UK. It has also worked with Draft London on digital initiatives.
Industry sources suggest that InBev is planning to extend the review to include its Stella brand. However, a spokesman for InBev denied this was the case.