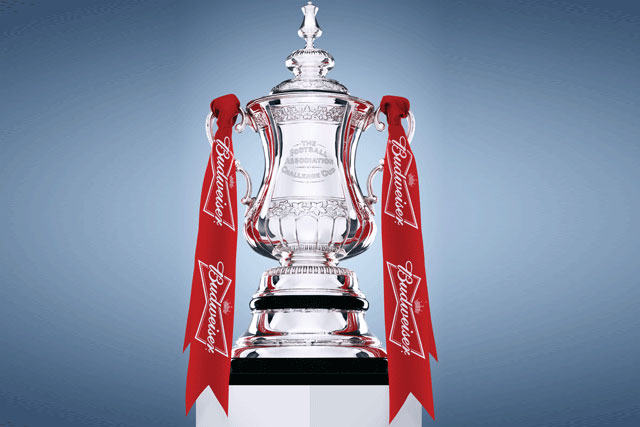 Budweiser's announcement that it is to become the title sponsor of The FA Cup means that there are now four major beer brands chasing the domestic football market - and the much-prized young male demographic.
Such is the ubiquity of beer brands that some experts claim they are playing '11-a-side on a five-a-side pitch' and will struggle to stand out.
Fighting it out on the football pitch, Budweiser has joined Carling, sponsor of the League Cup; Heineken, Champions League sponsor; and Carlsberg, partner of The FA and official beer of the England team.
Multiple sponsors in one product area in sport is not a new phenomenon: banks have traditionally aligned themselves with golf, while insurance firms found rugby union a good fit.
Unlike these tie-ups, however, the quartet of beer brands is unable to communicate directly to under-18s or a family audience, cutting off a path well-trodden by other football sponsors.
Despite this, some believe the global appeal of football means there is room for all to flourish.
'It may look like an overcrowded market, but there is huge demand from sponsors, and lager brands in particular, to maintain as strong a presence as possible within the sport,' says Nigel Currie, director of sports marketing agency brandRapport.
Emotional connection
Hans Erik Tuijt, global activation manager for Heineken, says its position is simple. 'As a premium beer brand, we need to be associated with the pinnacle sporting events in the world and we want to play with our consumers and the emotions they have. The Champions League is an example, as are the Olympics and Rugby World Cup. But we don't just do sport; we do a lot of music as well.'
Above all, says Tuijt, it's not what a brand sponsors, but how it sponsors it. 'Our challenge is to surprise our customers - if you're not surprising and entertaining, then you're doing something wrong,' he adds.
Football is viewed as an ideal sponsorship target for beer brands. 'There's a reason why we are in football,' says Chris Burggraeve, chief marketing officer of Budweiser-owner AB InBev. 'Watching sports is one of the most important beer moments.'
However, branding experts have voiced concern that the game itself could well overshadow individual sponsorships and diminish their brand standout.
David Goudge, managing director of Brand Development Business, claims that a dull football season can affect a brand. 'But it goes both ways,' he adds. 'Even if it is fantastic, then it is the game, and not the brand, which gets all the credit.'
Goudge points to the example of Heineken's recent advertising, which plays on the idea of men being insecure, arguing that this was a clever way to detach itself from the stereotype of the beer-drinking, machismo-filled male watching football.
The four big sponsor brands all have a well-established history within sport, having invested in high-profile marketing campaigns for years.
'These brands have also spent years developing sophisticated promotional campaigns designed to sell more of their product, particularly in the off-trade, around major matches and championships where they are a sponsor,' notes Currie.
'These deals clearly work for them. If they didn't, they wouldn't be so desperate to obtain more of football's sponsorship rights.'
However, there is general agreement that these brands need to achieve a strong element of standout if they are to benefit from their tie-ups.
Andy Sutherden, head of sport at Hill & Knowlton, which counts Adidas among its clients, says: 'The winner is invariably the brand that thinks and behaves like a fan rather than those that simply talk a good game.'
He adds: 'Think about the infamous Champions League spoof when men thought they had sacrificed watching Real Madrid versus AC Milan in favour of a classical music concert with their partners, only for Heineken to wheel off the musicians and wheel in a giant screen showing the match.'
While Heineken, Carling, Carlsberg and Budweiser might execute their sponsorship in different creative ways, there is a risk that they blur together in some fans' minds.
Davina Richards, brand director at consultancy Added Value, acknowledges that it is understandable that beer brands would want to be in that space, but says that it remains essential that all sponsorship activities are tied into an overall brand strategy.
'Beck's art sponsorship and Stella Artois' link-up with film really sets them apart,' she adds. 'There's a real risk of it all becoming wallpaper if everyone in a category is doing similar things.'
CARLSBERG ENGLAND TEAM
Length of association: 1995 to 2014
Annual value of latest deal (est): £8m
- Carlsberg was the top-selling brand in the off-trade during last year's World Cup. It experienced a significant spike in sales during the same period in the on-trade.
- Carlsberg ended its sponsorship of Liverpool FC in 2010 after 18 years.
Brand activity
Carlsberg used its 'Team Talk' push last year to promote its sponsorship of the England team. Running from February to the end of the World Cup, it started as an on-pack promotion, and evolved into a multimedia campaign. Almost 1m 'Team Talk' videos were uploaded by fans to a dedicated YouTube page, while Carlsberg's own 'Team Talk' ad was viewed more than 700,000 times.
BUDWEISER FA CUP
Length of association: 2011 to 2014
Annual value of deal (est): £8m
- Budweiser has been involved in football for 25 years.
- Its sales increased by 36.1% last year, growth attributed to its FIFA World Cup sponsorship.
Brand activity
Budweiser will use the strapline 'Great times are waiting' for its activity, which will be based on the anticipation that fans feel in the lead-up to cup matches.
Chris Burggraeve, chief marketing officer at AB InBev, said: 'We like the FA Cup because it's a very democratic club competition.'
Draws are expected to be made abroad in places such as China, where the FA Cup has a significant following, and fans watching will get to choose the man of the match via text and through a website.
A dedicated portion of the sponsorship will also be set aside for a bespoke programme promoting responsible drinking to football fans.
CARLING LEAGUE CUP
Length of association: 2003 to 2012
Annual value of latest deal (est): £7m
- Carling was the first sponsor of the Premiership, from 1993-2001.
- It took over from Worthington as the title sponsor of the League Cup.
- In 2007 and 2008, it created a 'Fans Final' by relinquishing its corporate tickets.
Brand activity
Last year the brand gave supporters the chance to post their own messages on Wembley advertising boards, with 12,000 taking up the offer. It also uses its sponsorship rights to promote its commitment to Drinkaware; at this year's Carling Cup Final, it ran a responsible-drinking message on the boards. Rob Hollis, senior brand manager at Carling, said football provides a 'great platform for the brand to promote itself in a relevant and engaging way to our target audience'.
HEINEKEN CHAMPIONS LEAGUE
Length of association: 2005 to 2015
Annual value of latest deal (est): £17m
- Heineken replaced Amstel as the Champions League beer sponsor.
- It was the first of six official sponsors to have concluded an agreement for the 2012-15 period of the UEFA Champions League and will sponsor the UEFA Super Cup from 2012-14.
Brand activity
In the new deal, UEFA has included rights for Heineken to use Facebook, YouTube and other social media channels; it also covers all territories including Germany, previously excluded from the deal. Earlier this month Hans Erik Tuijt, global activation manager for Heineken, said: 'We've built good awareness in countries that we're not big enough in yet (but) there is still some work to do.'