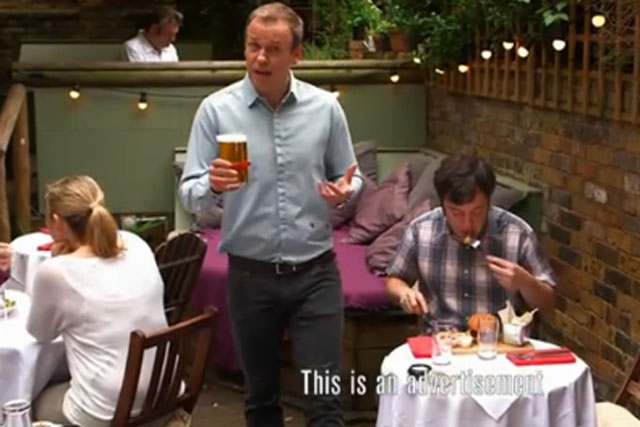 'Let There Be Beer', the campaign run by the Coalition of UK Brewers, which includes Heineken, Molson Coors and AB-InBev, ran two extended TV ads during the programme 'Sunday Brunch', which was presented by Tim Lovejoy who also featured in the ads.
The ads show Lovejoy presenting to camera and extolling the virtues of different beer-drinking occasions and brands. On-screen text, which appeared for three seconds, stated: "This is an advertisement". During the ads, Lovejoy highlighted brands such as Budweiser, Carling Zest and Foster's Radler.
Four complainants challenged whether the campaign was obviously identifiable as a marketing communication. One person complained argued that its placement during a programme about food and drink, which was also presented by Tim Lovejoy, was another factor that meant it could be mistaken for regular programming.
In response, the Coalition of UK Brewers, whose members also include Carlsberg UK and Miller Brands UK, pointed out that 'Sunday Brunch' was a live studio-based show and that in the vast majority of cases, all cooking took place in the 'Sunday Brunch' kitchen, not on location as was the case in the ads.
It also noted that 'Sunday Brunch' had never featured a drinks item filmed outside the studio, and drinks items on the show were only ever presented by the drinks expert, never by Lovejoy.
The ASA decided not to uphold the complaints and noted that both ads carried on-screen text informing viewers that the activity was advertising at the beginning, middle and towards the end.
The ASA said that "the combination of the standard 'Sunday Brunch' "end of part" sequence of a music clip followed by the titles and jingle, as well as the sponsorship ident, the Channel 4 ident advising viewers to "Stay tuned for a special advertising feature" and the inclusion of the prominent Let There Be Beer logo at the start and end of the ads, made it clear viewers were watching advertising.
In its ruling the ASA said: "We therefore deemed the content and style of the ads sufficiently different from that of the programme for viewers to be able to distinguish between them.
"Because we considered that the ads were clearly identifiable as advertising material, we concluded that the ads did not breach the code."