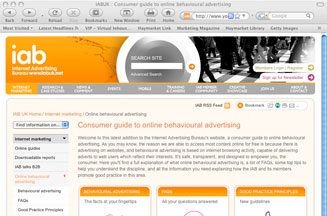 Behavioural targeted advertising has hit the headlines again. Less than two years after Facebook's controversial ad system, Beacon, sparked an outcry, behavioural targeting company Phorm has been thrust into the spotlight.
On the surface, the prized goal of matching advertising to consumers who want to buy particular products seems tantalisingly close for brands. Sky expects to be able to offer targeted TV ads through Sky+ from 2011. Google is trialling 'interest-based' display ads on its content network, allowing advertisers to target people with relevant ads on websites.
The government's 'Digital Britain' report posits targeted advertising as an important revenue-earner for publishers and brands. Personal data, it claims, is the 'new currency of the digital world'. Ad networks such as Platform A and Specific Media are becoming more powerful, responsible for allocating marketers' online budgets to relevant inventory.
However, a privacy backlash has prevented many advertisers from diving into these murky waters. 'When the privacy advocates start screaming, it is very difficult to have a rational discussion about behavioural advertising,' says Nate Elliott, principal analyst at Forrester. 'It is like screaming "Fire!" in a crowded theatre.'
Phorm has taken a public battering after broadband operator TalkTalk pulled out of plans to trial its Webwise software. BT, which came under fire for conducting trials of Phorm without users' consent, has also ditched Webwise in favour of putting resources into developing the next generation of broadband. Phorm has drawn the particular ire of privacy advocates for monitoring consumers' browsing behaviour through their internet service provider.
However, Andrew Walmsley, co-founder of digital media agency i-level, points out that Phorm's model does not record personal data and can bring consumers relevant content.
'Consumers are not interested in advertising. They want content that is relevant to them, but it is the advertising that pays for the content,' he adds.
In reality, every major publisher and ad network is already offering some form of online targeting proposition. Contextual advertising is based on what consumers are looking at online, and media planners use demographic targeting to focus ad campaigns on sites visited by their key audiences.
Behavioural targeting is also showing signs of taking off. According to Elliott, about a quarter of marketers surveyed by Forrester last year said they used it. However, he has also noted a reluctance among brands to associate themselves with the term. 'There is a reason Google called its product "interest-based advertising", not "behavioural advertising,"' says Elliott. 'It is a touchy enough subject that it doesn't want to be seen to be leading the way on this.'
Google is keen to distance itself from the backlash over Phorm while it trials its new targeting options. 'Our priority is to stick to transparency and consumer control,' says Dominic Allon, agency leader at Google UK. 'Our ad-preferences manager empowers the consumer, and the privacy link, bang in the middle of our homepage, shows that this is a genuinely meaningful commitment.'
Industry body the Internet Advertising Bureau (IAB) has argued against a knee-jerk response to targeted advertising and says that self-regulation is both possible and desirable. Having drawn up initial good-practice principles, it is formulating specific rules for 'sensitive segments', such as content for children and medical information.
The IAB plans to launch a targeted-ads handbook for advertisers and formalise its guidelines in September. It will also focus on a consumer marketing push with a dedicated website, Youronlinechoices.co.uk.
Derek Ludden, digital strategy director at media agency PHD, agrees that the industry has to work to allay public concern because there is 'something valuable and useful for consumers at the other end of all this'.
Much weight is being given to the IAB's plans by Yahoo!, Microsoft, AOL and Google. 'The IAB has a good track record of success in helping achieve public endorsement,' says Allon. 'The education programme will benefit all the signatories.'
Nonetheless, Elliott sounds a note of caution. 'I don't know if consumer-education campaigns will solve this issue,' he warns. 'People will hand over their name and address for a free burger, but there is still a big gap between that and behavioural targeting becoming acceptable.'