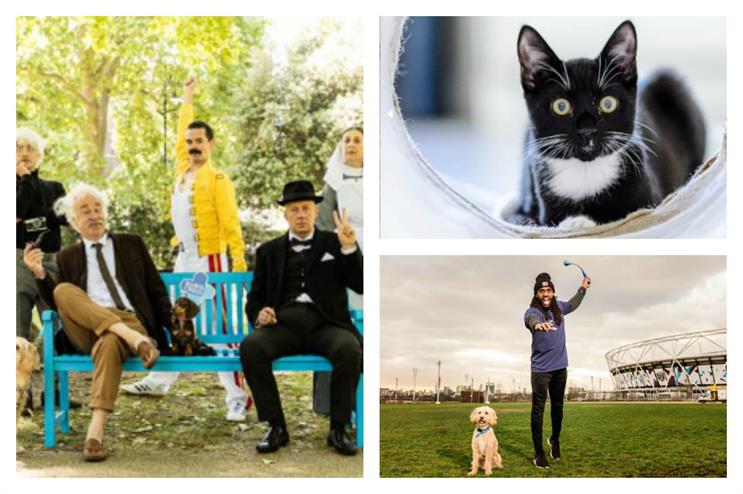 Blue Cross has staged a number of creative experiential campaigns this year, including a dog-themed fitness activation, an estate agents designed entirely for cats and an immersive theatre series showcasing the importance of pets to famous historical figures. Cressida O'Shea discusses the charity's growing inclination towards experiential as a means of raising awareness of its cause and increasing engagement.
"Experiential is very important because it gives you the opportunity to get close to people and to potentially create life-long supporters," says O'Shea. "It's a channel like no other in terms of the depth of engagement."
A charitable challenge
Although experiential can provide that essential depth of engagement for charities like Blue Cross, that does not mean there aren't challenges. The aspect of competition, alongside concerns over the reputation of the charity sector, can make utlising experiential marketing more difficult.
O'Shea reveals: "I think the challenge for charities is the competition – there's a lot of charities out there, and it's hard to make an impact. Another challenge for charities is that the sector hasn't got a great reputation at the moment in terms of chugging, which people don't like, and there's been bits of media coverage recently about chief executives with big salaries – the sector hasn't been as open and transparent as perhaps it should be, and that aspect can make it more challenging to be doing experiential."
But the reaction to the experiential events Blue Cross has been staging hasn't been effected by the criticism of the sector as a whole. O'Shea statex: "We've had a positive reaction from our experiential events. Our challenge at the moment is that we're not as well known as we should be and we really need to raise awareness in order to increase our support and get people to engage with us. Experiential is a great way of creating advocates that will talk about the brand more widely and help us to let more people know about our work."
A new purpose
Blue Cross has recently launched its new brand purpose – Pets Change Lives, We Change Theirs. The immersive theatre activation, which consisted of five plays showcasing how pets changed the world, took place from 28 June to 2 July and was the first experiential event implemented by the charity since the launch of its Pet Change Lives, We Change Theirs initiative.
O'Shea says: "Our immersive theatre activation was really exciting. We had the opportunity to have a level of integration across our activity that we've never really had before, and all the activity that we do is inspired by that purpose. And the reason behind that is, if we're able to communicate to people a bit more about who we are and what we do, we'll be able to engage people more emotionally. "
When discussing the ways in which the idea came about, O'Shea stated that it was about bringing Blue Cross' brand purpose to life in a fun and immersive manner. The immersive theatre element allowed the charity to create engagement with a wide audience and really hone in on the value of pets. "It gives that message in a really entertaining and engaging way, as well as helping us to tell a wider story on our website and create further content," says O'Shea.
The path to experiential success
Due to the number of experiential activations that are beginning to take place and the number of brands realising the potential of experiential as a key marketing strategy, the pressure to be creative must be high. But O'Shea describes it as an 'opportunity' rather than a pressure.
"Big ideas travel fast and they travel through word of mouth and online. When we're assessing ideas during that development process, we're tough on ourselves in terms of assessing whether the general public will really want to engage with the activation we're trying to create.
"We don't measure our success with experiential via an increase in financial donations. We do give people the opportunity to donate if they've enjoyed the experience, but it's not primarily a fundraising activity. We measure experiential success in terms of feedback and the conversations going on around the activity, as well as the rise in awareness and consideration of long-term support. And we are seeing positive shifts in those metrics, but these are hard metrics to shift, so it's case of slowly building change."
More: Behind the brand - Renault's changing outlook on experiential
Behind the brand - NME on the importance of live experiences
For your daily hit of news from the brand experience community, weekly brand and inspiration updates or your monthly trend download, register and subscribe to Event and our bulletins.
Comment below to let us know what you think.