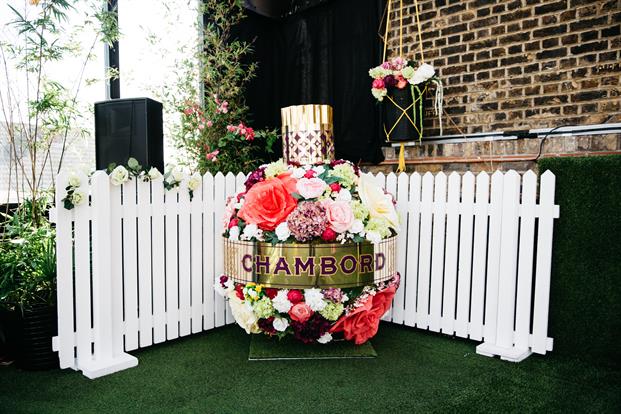 Raspberry liqueur brand Chambord, founded in the early 1980s and now owned and produced by Brown-Forman, is modelled after a liqueur produced in the Loire Valley of France during the late 17th century. In the last year, the brand has established itself as one that appeals to people's more playful natures, according to Laura Smith, Chambord brand manager.
Its Chapter Eight games activity, launched last year and which was revived again this month, is based on Lewis Carroll's Alice's Adventures in Wonderland, and features a flamingo-inspired croquet lawn and a Chambord bar, along with food partners. Last year was the 150th anniversary of the book's publication, making it a fitting theme for the Chambord activation.
Such was the success of last year's event, says Smith, that the brand decided to relive the experience. This year's event was hosted at Dalston Roof Park from the 1-4 September, with food partners including Le Bun and Dum Dum Donutterie.
"Our aim is to educate people about the brand," says Smith. "Events like Chapter Eight Games give us the opportunity to bring the brand to life and immerse people into something quite fun and different. It also drives word-of-mouth for us as the event is very much talked about and shared across social media."
Chambord wanted to get several key messages across, including what Chambord as a liqueur stands for and how to drink it. The Chambord Royale cocktail – a blend of Chambord and Prosecco, was served at the event, as well as the Chapter Eight Cocktail, which was created specially for the activity. The Chapter Eight Cocktail comes decorated with a playing card and contains Chambord, shaken with gin and fresh grapefruit juice.
"Chambord goes hand in hand with any sparkling wine and we know it's an accessible way to try it, particularly with sparkling wines and Prosecco being so popular at the moment," adds Smith.
Fun and frivolous
A recent Chambord advertising campaign, created by Wieden+Kennedy, featured a flamingo and asked why it stands on one leg, with the answer: 'because no reason!' It was a homage to the brand's 'Frenchness', giving it a surreal twist. Smith says the brand sees Chapter Eight Games as a fun and faithful way to bring the concept explored in the ad to life, as well as inspiring feelings of quirkiness and getting people to see the brand as 'odd luxury'.
"It helps to set Chambord apart from other brands as modern and fresh – and not as an old fashioned liqueur," she adds.
Chambord's target audience is primarily women aged 25-34 but the brand prefers to talk about targeting a particular mindset rather than a specific age, with spontaneity a key element to this. Smith describes this as 'people who seek enjoyment from spontaneous moments – they are in their early 30s and have grown up, they may have responsibilities such as jobs or forthcoming weddings but we want to elevate their everyday experiences."
Food partners Le Bun and Dum Dum Donutterie also encapsulated this thinking – Le Bun's burgers featured truffle mayonnaise and Chambord jus while Chambord Royale Crones reflected the brand's inventive and fun nature.
Continued investment
The Chapter Eight activity marks Chambord's last big experiential push for the year but Smith says that the brand will definitely be looking to do more of the same as it's a strategy that is proving successful.
"We are looking at our experiential strategy for the next one to three years – we need to think about what is most appealing to our audience and what gets them excited,' she says.