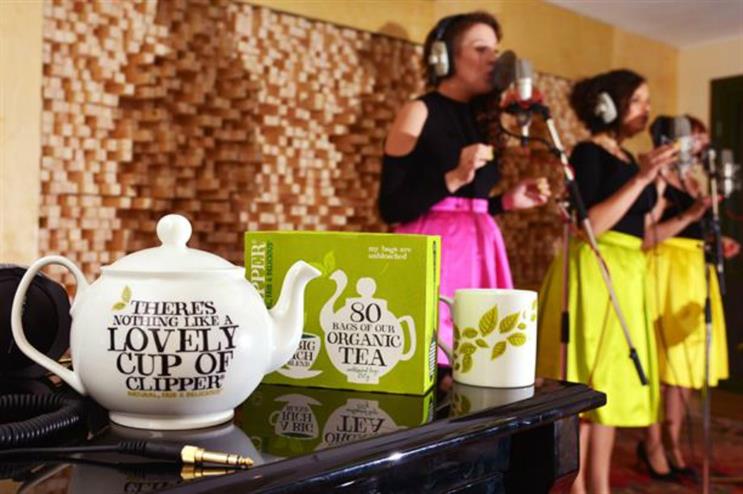 Concerts featuring a three-piece vocal group, an afternoon tea experience and pop-ups with hidden cameras - these are just some of the elements behind Clipper Teas' recent experiential activity.
As Adele Ward, brand controller at Clipper Teas' owner, Wessanen UK explains, Clipper Teas' approach to experiential is about bringing the idea of fun to life, entertaining consumers and taking tea tastings to a new level.
"When approaching a campaign we always ask ourselves, what does success look like, and then work out how to get there," says Ward. "Clipper is a fun brand with lots of personality, which is reflected in its experiential marketing. It's deeply important to build a relationship with each and every consumer and not take a mass marketed approach."
Clipper Teas has taken a varied approach to experiential marketing as each activity dials up and down different elements of its brand message, but campaigns all share a common goal; to create a memorable experience for consumers and get them to taste the tea.
Taste and quality
"We're very confident in the taste and quality of our tea and want to share this with consumers," maintains Ward. "Clipper's overarching brand message is natural, fair and delicious which drives all of our activity."
According to Ward, Clipper's everyday organic tea is one of the fastest-growing teas currently in the market and she says its success so far is attributed to its superior taste and depth of flavour, the motivation behind its current 'Flavour that Sings' campaign.
"We wanted to get across to consumers that moment when you first take a sip of Clipper tea and the amazing flavour hits you," explains Ward. "It's like a burst of beautiful song that breaks the silence."
Clipper Teas briefed its creative agency Aesop to help get this message out to consumers with an integrated advertising and experiential campaign, Clipper's biggest-ever advertising drive thus far, which kicked off in January. Reflecting its commitment to natural, authentic values, the 'Flavour That Sings' advert featured a three-dimensional collage of hand-crafted paper gramophones, tea cups and flowers objects displayed in a kaleidoscopic effect by Dutch artist Noa Verhofstad. The artwork targeted tea-drinkers across London and the South East.
The brand then launched the second phase of the activity with a launch party in central London and invited key influencers, media and social media competition winners. The event was styled as an afternoon tea experience like no other, including a unique tea tasting and a live performance from the brand's very own 'Flavour That Sings' band, The Clipperettes – a three-piece female vocal group.
The group is playing an instrumental part in the remainder of the campaign, which includes on-the-ground sampling, creating video content and social media competitions.
"The campaign, which is still in progress, is giving consumers an impactful experience," explains Ward. "Everything we do in the campaign is vibrant and colourful and brings 'the flavour that sings' message to life. We are confident in its success and anticipate the campaign will drive further consumer interest."
Playful experiences
Other experiential activity has focused on using more traditional formats such as pop-ups but adding a twist - all in the name of fun. One such example is The Truthful Green Tea Shop, staged in January 2016. The pop-up shop, which took place in Stoke Newington in London was designed to educate consumers about green tea.
Clipper Teas positioned hidden cameras inside the venue to capture people's reactions as they were informed of the processes, ethics and ingredients employed by other green tea producers, with the aim of encouraging consumers to opt for Clipper Teas.
"The motivation behind our Truthful Green Tea Shop was to deliver a truly immersive and memorable experience that would have a big impact and encourage consumers to share Clipper's story," says Ward. "As a disruptive, challenger brand we felt we were in a great position to put the spotlight on the category and educate consumers about the hidden truths of green tea in a playful way."
Last summer, Clipper delivered a three-tiered summer sampling campaign for its green tea range, designed to position the brand as the 'Queen of Greens'. The Fairtrade brand currently produces more than 15 green tea variants. The brand was keen to showcase its growing green tea portfolio and position the brand as a category leader. With the help of experiential agency BEcause and Gems at Work, Clipper distributed more than 250,000 samples of its flagship Pure Green Tea throughout July. The campaign featured a mixture of face-to-face hit squads, office-based sampling and free samples in ASOS mail deliveries.
More recently, the brand has partnered with TV personality Kirstie Allsopp on a nationwide competition to find the UK's best tea shop. The aim is to celebrate the wide variety of tea shops across the nation, and champion the great experiences that those in the out-of-home market deliver to customers. Tea shop owners can enter their tea shops into six different categories, with Allsopp picking a finalist from each category which will then go through to a consumer vote. Consumers will have an important role in voting for their favourite tea shop via social media and will get the chance to meet Allsopp afterwards. The activity will be supported by social media and PR to help raise awareness for the competition.
Looking ahead
Clipper Teas is continuing to invest in experiental. As Ward explains, it's a channel that has helped the brand to engage directly with consumers and raise awareness of its broad portfolio and more importantly, has enabled consumers to taste the product. The 'Flavour that Sings' campaign went on tour for the last two weeks of July with an on-the-ground consumer sampling activity and live performances from the Clipperettes.
Over the summer, the brand is taking samples of Clipper's Organic Everyday Tea to busy commuter areas around London. The activity will be accompanied by a special performance from The Clipperettes, to attract passers-by and continue to spread the message about the 'Flavour that Sings'. The brand will also be hosting samplings at a number of consumer and trade shows across 2017.
3 Fast Facts: Adele Ward, brand controller, Clipper Teas at Wessanen UK
-Ward previously worked at PepsiCo for almost a decade, with roles spanning across commercial and marketing. She has worked at Wessanen UK for over three years, where she started as brand controller for Whole Earth, before moving to the Clipper Teas brand last November. There are three people in the brand marketing team dedicated to Clipper.
-Favourite experiential marketing campaign: I really enjoyed being involved in the sports events when I worked on Whole Earth. The sampling was very targeted because we were taking peanut butter, a natural source of protein and fibre, to fitness fans and those interested in good nutrition. Man V Horse is a really quirky, all-terrain race which Whole Earth sponsors and was just great to be part of.
-My favourite event to work on so far has been the 'Flavour That Sings' one. It was just so vibrant and fun and allowed us to be really creative. From the spectacular cake and unique tea tasting to the bright decorations and wonderful singing, we gave guests a very enjoyable time.
More: Behind the brand: San Miguel
Enjoyed this feature? Sign up to our Trend Watch bulletin, our monthly deep dive into the world of all things experientia