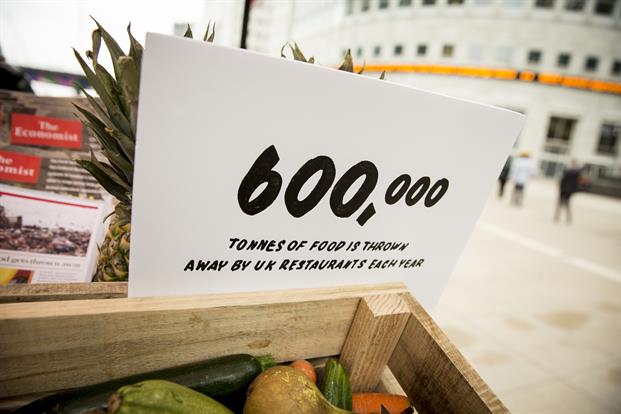 Crepes with insect toppings, coffee derived from cat poo and smoothies made from food destined for the rubbish bin are just some of the elements that have featured within The Economist's experiential activity, part of its 'Discomfort Future' campaign.
Marina Haydn, the brand's SVP for circulation and retail marketing says that from a small test channel three years ago, experiential is now a firm and growing element of the title's marketing strategy.
The brand worked with agency Sense in 2014 on a one-day, one-location test in London to try out a new approach to attracting subscribers. It's a strategy that has since been adopted throughout Europe, alongside activations across Asia, Australia and the US. The brand has worked with agency Catalyst for its experiential activity in Asia Pacific and with Zero Two Nine in Germany. The Economist recently appointed Sense to drive further activations across the US.
Around 80% of The Economist's experiential activity is focused on its consumer experiential campaigns, while 20% is focused on activity at trade shows and exhibitions.
"We appreciate the broader positive role experiential plays in terms of brand building and educating our target audience, in addition to the subscriptions it generates," says Haydn. "It helps us build relationships with people and engage in deeper ways with those who are intrigued by the type of challenging content we produce."
A total of 20,000 subscriptions were delivered through experiential marketing activity last year and Haydn says the brand is actively looking to grow this over the next year.
"The subscriptions we received via experiential marketing grew 28% from fiscal year 2015/16 to 2016/17," adds Haydn. "In the UK alone, a lifetime value of £1.7m was generated. Subscriptions via experiential activity will represent 20% of our acquisition activity in the real world – everything outside the realm of digital marketing – next year."
Challenging perceptions
Research had shown that many people perceived The Economist to be a dry business title. Through experiential, the brand is striving to position itself as a leading authority on the forces that are shaping the world – now and in the future.
"Experiential brings our quality journalism to life while enabling passers by to not only experience our content, but to also learn that we are a brand that advocates positive change," explains Haydn.
Its campaigns have focused on targeting an audience it terms 'the globally curious' versus those who are 'the comfortable majority', with activity inspired by Economist articles on the future of food, sustainability and recycling. The concept for each campaign may seem at first straightforward but also incorporates elements aimed at challenging perceptions and getting people to stop and think twice. Its 'Bin to Blender' activation, for example, which ran in London last summer, encouraged consumers to try free and nutritious smoothies made from fruit and vegetables, which would normally have been destined for the rubbish bin.
The underlying 'waste not, want not' messaging behind the campaign highlighted how Americans throw away 40% of the food they buy every year, and how using food waste can end want.
"Through these type of activations, we are offering people something they can take control of in their everyday life," explains Haydn. "We use experiential to illustrate a problem that is normally expressed in hard data – for example, the fact that 40% of food is thrown away. Instead of presenting the challenge through data, we are offering people a solution so it ends up being a positive experience and a refreshing way to bring both content and the brand to life."
Its latest campaign, which ran from the 8-10 February, featured an animated underwater virtual reality (VR) pop-up experience at New York's JFK Airport, highlighting the dangers of overfishing the world's oceans.
The experience gave travellers an in-depth understanding of the issue by watching 'Oceans VR: Net Positive', a 4.5-minute animated VR film, which featured representatives from The Economist about the issue. Visitors to the pop-up received a leaflet with more background on overfishing, along with a coupon to purchase an issue of The Economist at a news stand for a discounted price.
Deepening reach and education
Haydn says experiential has also helped expose the brand to a different generation of readers, in particular a slightly younger audience, through its future of work activity. As part of this activity, The Economist launched
a series of live debates in London last November
, aimed at helping students to make career decisions. Campaigns are also aimed at educating potential readers – the
insect ice cream activity
aimed to illustrate how eating insects could boost food supply by offering a more sustainable source of protein. It's a theme that was revisited with
its insect crepes activation
, when the brand handed out free crepes made from insect flour and topped with insects. The aim was to highlight how insects are a sustainable source of food and cheap to farm, and raising them has much less impact on natural resources and the environment.
"We want to surprise and delight our target audience through experiential – many of the people we interact with have low levels of brand familiarity – experiential helps them to understand what The Economist is about and improves brand perception. We have seen a clear, positive impact on band image and it has helped to bring our brand to life," adds Haydn.
For 2017, Haydn says the brand will continue to produce experiential activity along the theme of 'feeding the future' and sustainability with key campaigns set to launch in the UK and North America this year.
"Within the real world marketing division, experiential is absolutely increasing in importance, enabling us to gain strength and to bring our marketing to life in a much more impactful way, as well as being an excellent complement to all our digital marketing activities," she says.
3 Fast Facts
Marina Haydn, SVP, circulation and retail marketing, The Economist
-Has been at The Economist for 16 years and previously worked in the brand's events department
-Manages a team 32 globally, split between 20 in marketing and 12 in operations
-Her favourite experiential campaign for the brand was its insect ice cream campaign from 2015
More: Behind the brand: Three Mobile
Enjoyed this feature? Sign up to our Trend Watch bulletin, our monthly deep dive into the world of all things experiential.