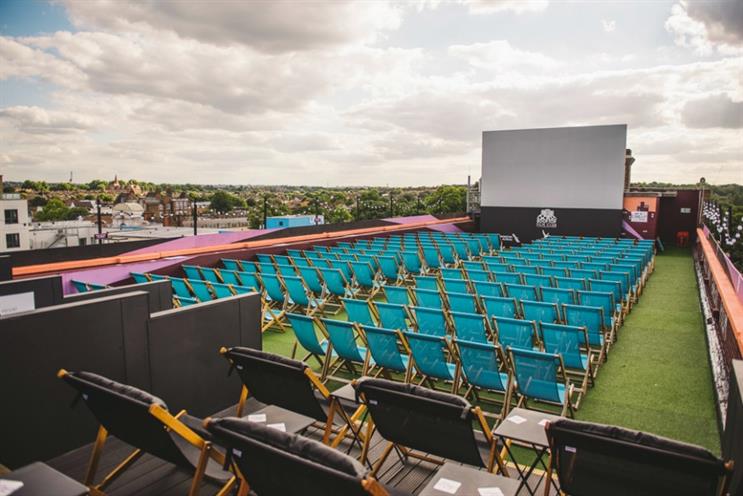 NME is currently working with film brand BFI to create CineJam, a 10-night series of live events revolving around music and film. The event series launched on 5 July and is running on selected Wednesdays and Sundays until 30 August. Event caught up with Romano Sidoli about CineJam, the new era of NME and the importance of live events.
How does an event like CineJam relate to NME as a brand?
NME is a 65-year-old brand with lots of heritage and, now that we're publishing the print part of the magazine for free, we're working from a much more commercial model. So events such as CineJam are really important to ensure that the brand can perform in a more liberated way.
The starting point for CineJam was really the band Bastille – they've curated the event for us. So Dan Smith, Bastille's lead singer, has picked ten films across the ten nights that CineJam takes place. Bastille's involvement was to help us pick the film and ensure that the bands were right, so we've had Jagara and Sundara Karma so far, and still to come we've got bands like Artificial Pleasure, and Tom Grennan will play the final night.
NME boils down to two things. It covers music primarily; so there's an element of discovery around new musicians and new acts – people that we think our audience should tune into now. And then we also cover the huge acts and bands like Foo Fighters and Coldplay. CineJam lies at the discovery end of the spectrum, we're helping our audience discover new music, new artists; people that we think are going to be important. Sundara Karma are a great example – they're playing the Brixton O2 Academy in October, so to be able to say that you came to see them play an acoustic set on a rooftop in Peckham with an audience of 150 people is pretty cool. And that's NME at its essence – giving people the chance to be able to say that they heard an album or saw a gig somewhere really intimate and really special, and then later on in that band's career you'll see them again when they've developed and evolved.
Photo: Andy Hughes
How did the partnership with BFI come about?
NME is hopefully back in the eyes of its audience, and also with a newer audience, as the benchmark for music discovery in the UK. BFI is effectively the same brand, but for film. So this partnership enables both of us to take those iconic films with great soundtracks, and take the music that's influenced by film and put the two things together. It brings two types of audience together and, irrespective of whether they're an NME reader or a fan of BFI, the event ends up in the middle at a place where the audiences will crossover, there's something for everyone. But, equally, both audiences will be able to discover something new from the other side of the fence.
What are the marketing reasons behind the CineJam series?
In the modern era, since we've been free as a magazine, we've been able to be a little braver around the choices that we make. We don't have to protect a paid-for magazine in order to supplement everything else, we can open the doors to the whole brand. Live events now are as important as the print and digital side, because it brings the brand to life. The audience can see a brand perform live, which is as important as listening to the record, and NME should be playing that role in people's passion for music. The magazine becomes a great marketing support for CineJam, and other events that we want to do a lot more of.
Photo: Andy Hughes
The changing habit of our audience nowadays is that their cultural discovery revolves around that live element. It can enrich their lives in a cultural way and it makes sure that they get to experience something that exists already in a digital or print form. But this CineJam event gives our readers the opportunity to see the music, bands and film that they want to experience, so our brand is able to engage with them in a live environment just as we engage with audiences on digital and print platforms. The live aspect allows people to share their experience on social media, and they talk about it with their friends.
Music remains the real essence of NME. For us, we are much more mainstream than we have ever been in our history, but the music industry is going in the same direction. Streaming, for example, allows people to listen to a huge range of music, as supposed to 15 years ago, when people had to purchase a physical copy of an album. You had to be almost tribal about music, and say 'I'm into that genre' or 'I'm into that band'. With streaming, you can listen to a whole range of artists, and it allows people to be a bit more experimental, and I think NME is doing the same thing.
Photo: Andy Hughes
How is NME changing its direction since becoming a free publication?
When NME went free in September 2015, a lot of our research showed that our audience had a multitude of interests. Our audience has always been interested in food, fashion, film or politics, but music remained as something they engaged with everyday. So our next move was to consider how NME would use its new-found scale and model to talk about the audience's other interests such as film. Film's a really interesting category for us, we've developed content that exists across all of the brands and CineJam is the natural conclusion for an NME live event in this new era; putting on an iconic series of films, curated by Bastille, with acoustic performances from up-and-coming bands.
How do we bring technology into an event like CineJam? Well you're given headphones to listen to the film, we have a playlist playing in the bar area featuring classic music from movies - we're bringing our audience's other interests into a music environment, and the live experience is hopefully amplified by the fact that we can talk and activate around different spaces such as film and technology. Music remains the heartbeat, but our new model opens up different options commercially and in terms of editorial.
Photo: Andy Hughes
What's coming up in events for NME?
Events have always been a significant focus for the brand, with our flagship NME Awards reaching a global audience. This summer we introduced a new sponsored event franchise called NME Lock-Ins which shine a spotlight on up-and-coming talent, and last month we introduced The Emerging Artists Project in partnership with Thatchers Haze cider which takes the shape of a nationwide search for the best undiscovered talent in the UK. The winning artist will release a four-track EP and we will be hosting two launch parties to support it.
In a similar vein to CineJam, we are also introducing events around NME's lifestyle content to grow NME's footprint in the free market. For example, last year we introduced LifeHacks, a one-day event which we partnered with youth employment initiative Create Jobs on to show young people how they can break into the creative industries. We had Jamal Edwards MBE as the headline speaker, and the event culminated in a live gig from British hip-hop artist Tinie Tempah.

More: Behind the brand - San Miguel
Behind the brand - Renault's changing outlook on experiential
For your daily hit of news from the brand experience community, weekly brand and inspiration updates or your monthly trend download, register and subscribe to Event and our bulletins.
Comment below to let us know what you think.