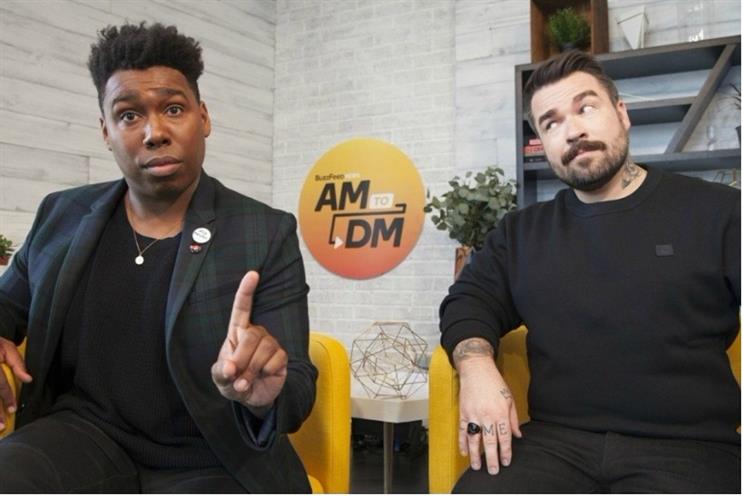 The thirst for new, sexy ways to digest headlines is real. Just ask BuzzFeed.
The media platform has capitalized on generation "WTF" and "yaaaas" (millennials, chiefly), by offering news with a voice that has separated itself from the competition since it was founded in 2006. Many organizations have tried to replicate this style. Many have failed. During the rise of online media, countless outlets subconsciously pushed aside journalism and fell into the trap of churnalism. Listicles replaced articles. Clickbait was favored over headlines.
But readers soon caught on. Outlets were forced to clean up their act. Not everyone did, though. Some refused to change and remain stagnant today, fighting for organic traffic by using unpredictable social media platforms as their sole lifeline. BuzzFeed, however, adapted, evolved and essentially removed itself from the murky online waters where so many publications reside. Today, it continues to add more weapons to its armory. It's latest bazooka is called "AM to DM." Doesn't ring any bells? Then you can't be on Twitter, because this show dominates feeds.
"We created 'AM to DM' as a more immediate alternative to the traditional morning show—our audience is people who already know what's going on, but want to go deeper," said Shani Hilton, BuzzFeed News' vice president of news and programming. "Creating a show for and on Twitter has allowed us to develop a different kind of connection with our audience—we're not just wallpaper in the background or talking heads repetitively delivering headlines of the day. Our goal is to take note of what people are talking about, including while the show is on, and address them directly in a smart way."
#AM2DM is all the way LIVE! And have no fear: #FearFactor host @Ludacris is here, but you don't have to eat ?????? for breakfast. https://t.co/lpjH3pLHQc

— AM to DM by BuzzFeed News (@AM2DM) February 21, 2018
The show, which airs daily on BuzzFeed News via Twitter, BuzzFeed.Twitter.com and Periscope from 10 to 11am ET, is hosted by Saeed Jones and Isaac Fitzgerald. The duo chat informally about the day's headlines and interview guests—pretty standard stuff. But the real magic behind this show is audience engagement, says Hilton. She believes it was the key driver that helped the show garner around one million views per episode over its first season (which launched in September 2017).
"That hasn't changed in our second season, but we are even more conscious about how those social conversations are playing out in real time, and the voices who are leading them," she continued. "We want to talk to people—especially young people—who are deep in the weeds on a particular issue and topic."
They'll discuss topics that range from how fabricated news spreads on platforms, to what's going on with public policy, to how institutions are responding to sexual harassment allegations, to the unprecedented thirst levels for "Black Panther." Meanwhile, they continue to bring in big names in entertainment, politics and tech for wide-ranging conversations that are pegged to the news of the day.
More recently, the show has been experimenting with what BuzzFeed is known best for: social content. That could be as simple as surprising a fan, like how they filmed a mini gymnast meeting her idol Simone Biles.
Watch this 11-year-old gymnast meet her hero @Simone_Biles ?? ?? pic.twitter.com/iejwAfgKdB

— AM to DM by BuzzFeed News (@AM2DM) February 3, 2018
Hilton says the show has been "profitable and sustainable from day one," thanks to ad work with brands including Wendy's, T-Mobile, Toyota and Bank of America (although, exactly how profitable it is will remain a mystery for now, as she didn't offer up any figures). Surface-level stats about the show's followers and audience engagement all point to success. What gives them edge over the competition, Hilton says, is the show's real-time feedback loop with its audience that shows how people are responding to any news story or interview.
"That is incredibly valuable and helps inform our decisions," she continued. "We're also not as polished as the more traditional cable news or morning shows, which I think makes our audience see us and the topics we cover more approachable and authentic."
But surely there's a fear that AM to DM is only as good as the social media platform it's on? Critics might say BuzzFeed has taken a huge gamble using a stage with a dwindling US user base. Twitter reportedly lost two million users from America last year.
You're officially old: Olympic gold medalist born in 2000 listens to 90s songs for the first time pic.twitter.com/z6aiExhR87

— AM to DM by BuzzFeed News (@AM2DM) February 15, 2018
"We felt that Twitter was the perfect partner for 'AM to DM' as it is the platform for how people consume news today," Hilton explained. "People want news in an accessible and engaging way, but we've also seen that they want to be able to quickly pivot between topics that have piqued their interest. That is the power of Twitter that we've been able to harness for the show."
Hilton does, however, appear to acknowledge the elephant in the room.
"We're also conscious of not being too dependent on any one platform, which is why BuzzFeed News has always utilized and experimented with different formats on many platforms as a way to meet our audience where they are whether that be Twitter, Facebook, YouTube, our homepage or mobile apps," she said. "We're a media organization born on the internet and are nimble as a result."