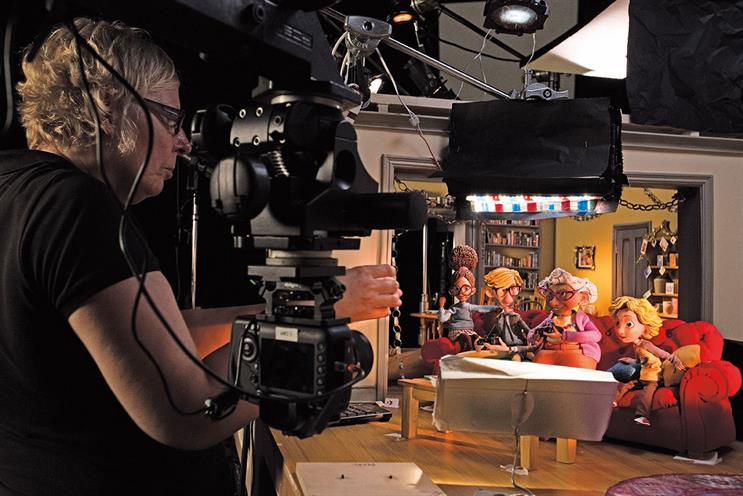 8 pm, 7 November. With two days to go until playout, Richard McGrann version 6.0 is sitting in The Queen's Head, Kingston-upon-Thames, writing an article for Campaign over a lovely pint of Guinness.
A number of other Richard McGranns are sound-mixing at Jungle, coaxing mushed carrot into baby Ella and putting in some training runs for the London Marathon.
Meanwhile, versions of Andy Clough are setting titles at Passion and taking his partner out for her birthday. Producer Rebecca Scharf numbers one and three are shaking their heads at her assistant, Nikki Holbrow, who has missed the metaphor and sent out an army of 500 Holbrows to conquer Pokemon Go.
Looking back, it's easy to see where the inspiration for "The greatest gift" came from – hindsight is a great teacher.
Rewind 50-odd weeks. Mog was still capturing the hearts of the nation and we had just been briefed to write the successor to "Mog's Christmas calamity", "Christmas is for sharing (1914)" and "Christmas in a day".
Add in reviews for the next Guinness Africa film, three Maltesers spots and the next Currys Christmas campaign, along with the teeny, tiny matter of us both about to become fathers for the second time. It was going to be a big year and we would have to strike a work/life balance that worked across our personal and professional lives. Here was our human truth.
The clones idea came from a joke about dodging the washing up on Boxing Day. There was the DNA for "The greatest gift" – me. (Mum, I wasn't "shirking my responsibilities". I was working.)
The idea of giving the gift of time had its executional pitfalls. We neither wanted to be schmaltzy nor admonishing. So the idea of writing our story as a stop-motion animated musical seemed like a good way around it. It would allow us to dress up a meaningful message in joyous clothing.
It would take a few months and a missed bedtime or two before we had a signed-off script and the bare bones of a song. But if Sam Fell at Passion was worried about the production time, he never let on. We have never seen such an impressive pitch document nor felt as much part of a team. By the time we presented, we knew what our lead man Dave looked like and we knew that his daughter had a mild obsession with jellyfish.
The idea struck a chord with Bret McKenzie, about to embark on a Flight of the Conchords US tour, timed for the school holidays in New Zealand so his kids could come. (Now there's a man who has his work/life balance sorted out.)
He made sense of our hook, he sharpened the gags and wrote a tune so catchy that even our dopplegangers would be humming along. Brilliant.
We also used some brand-new tech alongside the traditional craft. All the faces were first modelled on a computer and then 3D printed in full colour. This would mean that every facial expression had been plotted in advance (and printed in Stoke).
This meant that the edit had to be locked in at the animatic stage and the song had to be recorded before we could begin.
We had unwittingly written in enough characters, scenes and sets to pretty much make a full animated feature film. There were thousands of details to pin down, meaning an army of model-makers – they could be needing clones too.
The beauty of stop-frame is that everything had to be made by hand. Unlike CGI, there's no cutting and pasting. Every tiny detail is made by hand. As Sam says: "If you're going to make something, you might as well make it well." Dave's watch has an opening clasp. The tiny little children's drawings on the fridge were drawn under a magnifying glass.
But that's the world of stop-motion. The public won't notice that Dave has copies of Bat Bloke and Mobility Scooter Racing in his game collection, but the animators do. It's a lesson in professional pride.
The everything-in-camera approach meant that we were holed up in Earlsfield for a couple of months, wishing we had written "The greatest gift is a shoot in the Maldives". But unlike most jobs, all the worry of the edit was already over. We could enjoy the scenes in the animatic being transformed into animation. If it made the lens, it would make the cut.
With a week to air as I write, it's too early to say if the ad will be a success, but every single version of us enjoyed making it.
Richard McGrann and Andy Clough are creative directors at Abbott Mead Vickers BBDO