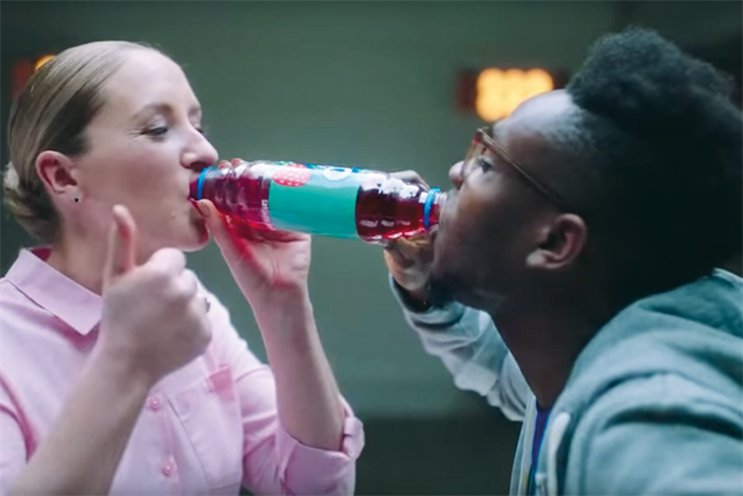 Comedy is subjective – dependent on an audience's assumptions, understanding of and familiarity with certain references. Which is why, according to Gemma Barnett, stills portfolio manager at Coca-Cola UK, when making "Togetherness" – the ad chosen by the Thinkbox Academy as the winner of the latest Thinkboxes award for TV ad creativity – the creative team had to tread a fine line.
The aim was to mock half-baked brand purpose – a goal perfectly in tune with Oasis' "Refreshing stuff " campaign developed and launched by The Corner in 2015 with a poster bearing the line: "It's summer. You're thirsty. We've got sales targets."
So, Oasis' brand purpose became to refresh the rules of marketing with a strategy that's totally upfront about being sales-y while challenging chosen marketing tactics and conventions.
The Corner's Robert Amstell devised the idea for "Togetherness" with co-creative director Matthew Lancod. The creation of this latest instalment followed efforts by a number of other brands to present their brand purpose as doing good – by attempts to unite political opposites, for example, or end social injustice.
"Purpose-driven advertising has its place, but we felt it had 'jumped the shark'. The thought was [that] if consumers are half as sick of worthy advertising as we are, they'd appreciate our latest bit of schtick," Lancod observes.
"The desire was to lampoon all worthy advertising with the most absurd single visual we could think of that could almost be taken at face value… [to] comedically unicycle along the fine line between absurd and believable," says Amstell. "This wasn't about parodying one brand, it was a humorous take on the direction [being taken by] the entire industry."
The TV ad is built around the Togetherness Bottle, which has a cap at both ends to enable two people to drink simultaneously. In the commerical, supposed strangers are encouraged to share a bottle, but on discovering it is double-ended, struggle to do so – demonstrating the ridiculousness of the ad's claimed purpose. "Harmony – just a few billion sales away!" the voiceover says.
Barnett says that as soon as she saw The Corner present a mocked-up version of the Togetherness Bottle, she knew they were on to something good. However, producing a functional example for the shoot was tricky.
"Creating the bottles was a commercial supply chain challenge in itself – our factories are obviously equipped to deal with mass production, so we actually had the Togetherness Bottles made by hand."
Shot at The Old Dairy in Clapton in April, "Togetherness" was directed by Jamie Delaney through Black Dog Films. "A producer there we'd worked with in the past put [Delaney] forward. At first we were confused – everything on his reel was beautifully shot with great storytelling, but there was nothing overtly comedic," Lancod admits. "Then he showed us a project he was working on which was hilarious and sincere – the rare combination [we] needed."
Eliciting the right sort of laughs rather than laughs at any cost was the key challenge. "We always have to make sure we're aiming in the right direction," explains Amstell.
"When we did an Oasis Grime music video, we did it in a very authentic way to ensure we were mocking the bands jumping on the genre, not the genre itself. For 'Togetherness', we had to ensure the genre of advertising was the joke, not the cast."
Barnett adds: "We wanted the content to be as natural and real as possible, so we decided not to brief our actors on the reaction required… we let them discover the bottle themselves and watched the chaos ensue."
"A great creative idea which allows the brand to stand out and resonates with the audience is the first step to a great campaign"
Gemma Barnett, stills portfolio manager, Coca Cola UK
The TV ad was also designed to be shareable online, and, as such, shareability as well as engagement are key metrics. Early results show the ad has performed well for Oasis – generating an initial 134% uplift in engagement compared with the brand's average social media posts, Barnett says.
"A great creative idea which allows the brand to stand out and resonates with the audience is the first step to a great campaign," she believes. A true and powerful insight has to be at the core of any TV script for her to invest in, she adds. "Togetherness" had both.
Amstell notes: "Good creative can't be made in a silo. We had 100% from our business director, Taya Dufall, and an incredibly gutsy client, senior brand manager Agnieszka Rola."
"Self-censorship, second-guessing and asking for permission are all common enemies of great ideas," Lancod adds. "Trust yourself. Get it down on [paper]. Then start worrying about how you're going to make it happen."
"Any great TV makes you forget about everything but that one thing. It sucks you in"
Matthew Lancod and Robert Amstell, creativer directors, The Corner
Also shortlisted this month...
Lurpak 'Smooth' Wieden & Kennedy London
Nationwide 'Mortgage number one' VCCP
Sainsbury's 'The toughest critics' Wieden & Kennedy London
Vimto 'I see Vimto in you' Quiet Storm
The Thinkboxes, in association with Campaign, are the only regular awards that celebrate the UK's world-beating TV ad creativity throughout the year. They're judged by the Thinkbox Academy – 200 advertising and marketing luminaries who have been involved in award-winning creative work for TV.
To see the winning ad and shortlist, visit The Thinkboxes.
Want to see more great work? Head to the Thinkboxes hub