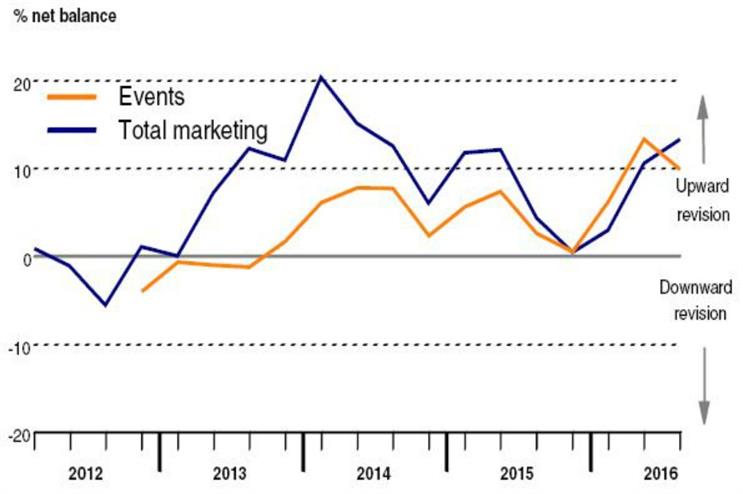 The IPA's quarterly survey of marketing spend has now registered growth in event marketing spend for the 12th successive quarter. Events remain the strongest sector posting growth, followed by internet spend and direct marketing.
Marketing budgets themselves have been revised up in Q3 2016 to the highest rate in over two years with adspend forecast for 2016 revised up to 1.9% against a previous rate of -0.2%, as marketers remain cautious in the face of continued Brexit uncertainty.
Around 24% of respondents registered a rise in event marketing, with the +9.9% increase being the second highest recorded in four years of data collection, beaten only by the sharp +13.4% rise in Q2 this year. Panellists commented on attending additional events and exhibitions dedicated to specific industries, thereby providing the opportunity for greater direct engagement with prospective clients and industry figures.
Patrick Reid, CEO EMEA at agency Imagination underlined the importance of brand experiences. He said: "Consumers are demanding richer, more rewarding relationships with brands and marketers are fulfilling this need with experiences that are meaningful, rewarding and measurable. The sustained recognition of the value of experiences reflects an increasingly significant shift in approach from brand marketers to achieve the consumer engagement they are seeking. With the opportunities that smart technology and social media offer by blending the physical and digital manifestation of these experiences, we see this trend continuing."
Itch Experience founder Mike White added: "Brands do seem to be spending more in event marketing due to growing consumer demand - people want to be engaged through their passions and cultures and this means live experiences. All our clients see the importance of event marketing and understand its value as a quantifiable channel that can be a content generator as well."
It is a view shared by British Fashion Council's head of events Josef Jammerbund, who cited the Burberry fashion experience at last month's London Fashion Week as an example of brands investing in pioneering approaches to engage consumers directly. "Burberry's 'see now, buy now show' at Makers House allowed the brand to build a much closer connection between a catwalk show experience and the buzz of customers exploring the collections for the first time - they created one of the very first fully immersive live fashion experiences."
Direct marketing up, mobile down
Internet budgets also continued to rise during the third quarter to +9.5%, marking over seven years of upwards revisions, while within internet, search/SEO recorded a net balance of +7.3% for Q3, but mobile posted -2.6%. Direct marketing budgets were also revised up, recording a reading of +4.9%, the highest level for a year-and-a-half. Main media advertising recorded a net fall in budget over the quarter, as did PR, market research and sales promotions.
Future forecasts

Bellwether forecasts a challenging 2017 with adspend expected to decline by -0.7% as business investment is pared back in line with the uncertainty over the negotiated terms of the UK withdrawal from the EU. Adspend is set to show modest signs of recovery in 2018 with growth projected of +0.2%, followed by a return to more solid expansion in 2019 (+2.4%) and 2020 (+2.7%).
More: Bellwether: record high increase for event marketing
Blog: The stealthy meteoric rise of experiential
Comment below to let us know what you think.
For your daily hit of news from the brand experience community, weekly brand and inspiration updates or your monthly trend download, register and subscribe to Event and our bulletins.